Rachel Brady's life changed forever five years ago when she discovered she had epilepsy. Today, on European Epilepsy Awardness Day, she tells her story.
Five years ago with no warning I fell to the ground, was rigid from head to toe, stopped breathing, turned blue had bitten my tongue blood pouring from my mouth, my friends thought I had dropped dead and an ambulance was called.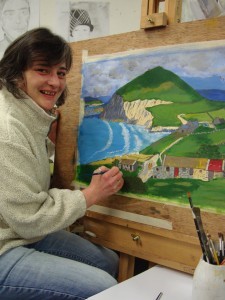 I woke up in hospital didn't know where I was, I had no recollection of what had happened or why, it happened again and again.  My whole world had turned upside down I had ambitions, dreams, targets for a life to live and just like that in a flash it was all gone. 
To add insult to injury I kept going into these absence states going into trances, acting like I was drunk, slurred speech, talking gibberish and remembering nothing.
 A consultant diagnosed me with epilepsy.  Straight away I went into complete denial, no, no way, this cannot be happening to me.
Family, friends wanted something to blame for my condition, there was nothing to blame it had just happened.  It took a long time, a lot of disappointment and heartache to find a medication that would help. 
Each seizure I had everyone around me said be positive that's the last one but they kept happening I felt so let down so too were those around me.  I was so ashamed, embarrassed, lost and completely withdrawn.  
I was told it was unsafe to even live alone.  Fear took over friends were kind enough to let me stay with them.  In truth I wasn't their problem "familiarity breeds contempt" they were sick of my seizures.
I reached out to Brainwave who in turn put me in contact with Create a Link Art centre.  I met other people who had gone through or were going through similar situations. 
Bit by bit I found the confidence to face my fears, accept who and what I was, to live independently.  My seizures are still horrific but mainly nocturnal.  Maybe one day they will stop. 
Epilepsy knows no boundaries anyone at any age can be affected by it.  Don't let it stop you living Feb 14th is European Epilepsy awareness day, reach out to Brainwave if you or someone you know is suffering from it,  Accept it, live, forgive for today. 
Thanks to Create a Link and Brainwave I am putting this painting up for auction. The painting will be on show in the Artco gallery on Pearse Road, behind Charley's Café.
Until the 28th of February, anyone can make a closed bid on the painting and the funds will go to Brainwave.
 Rachael Brady