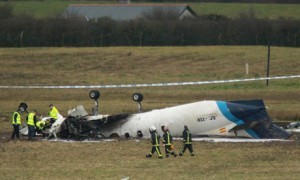 A GAOTH DOBHAIR WOMAN has spoken about how she was booked on the ill-fated Manx2 flight from Belfast to Cork which crashed last Thursday killing six passengers.
Mairead Beagan, from Middletown, only cancelled the booking when the airline rang her last Wednesday to tell her the return flight was fully booked.
"I was supposed to take that flight," she said.
"It was full on the way back. That was the reason I did not take it. I was supposed to be in Belfast for the 7.50am departure but last Wednesday I received a phone call telling me that the flight was full and I decided against taking the flight."
After the crash she was inudated from calls from friends and relatives who thought she might have been on the plane.
The HSE employee added: "I have to say I am extremely relieved. I have been thinking of all the families who lost someone belonging to them. It must be so hard for them."
She said she would never fly again as a result of the incident.
"I was always a nervous flyer and I am never flying again. From now on it will be buses and cars," she added.