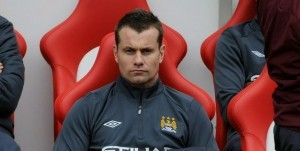 SHAY GIVEN was tonight forced to sit on the bench – in a competition he thought would be his own for Manchester City.
The Lifford man had hoped he would become first choice keeper at Eastlands for European competition.
But despite travelling to Greece for tonight's last 32 first leg clash with Aris and Salonika, Shay was again dropped to the bench.
It will be a big disappointment for Shay as Joe Hart once again took up position between the posts in a match which ended scoreless.
Having started only four games – three in Europe and one in the League Cup – it was thought he would start tonight.
But whatever his disappointment, it is a mark of the incredible generosity of the Donegal man that he will actually continue to help Hart this season.
There are serious questions about Hart's concentration and asked if would help Given said:"Well possibly [yes]…he is a young guy and young in goalkeeping terms as well. You know, he doesn't pick the team, it's the manager who does.
"So you would like to think you would help him in any way. He'll learn. You know, I made mistakes in my career. You learn from making mistakes, and you become a stronger and better goalkeeper. Joe will be the same."
Asked if he worried about not playing games, Shay said: "I don't think worry is the word you're looking for, [but] it's not ideal.
"But you've got to play with the hand you've been dealt. That's the situation I'm in and there's nothing I can do to change that. I'm not a young keeper but I've played a good few games in my career and I'd like to think I can call on that experience to get me through a difficult period, obviously."
He added: "I've been working and training harder than normal … because I don't have to save myself for games, I suppose. I like to think I'll be a little bit stronger and better in [match] situations."