A Rathmullan man is behind one of Ireland's most successful film companies which has just scooped an Irish Film and Television Award (IFTA).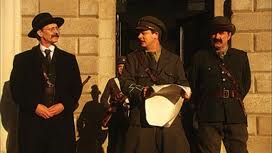 Pierce Boyce, who is managing director of ABU Media, claimed the award for the film 1916 Seachtar Na Casca in the Irish language category.
The excellent film was also nominated in the Best Documentary Award category but just lost out.
ABU Media were keeping their fingers crossed for this year's awards after near misses with other films including Mobs Mhericea 1 & 2 and Bothar go dti an Whitehouse
The company, which was established in 2000, is based in Galway and produces feature film, drama, documentary and light entertainment for both Irish and English-speaking markets.
ABU also specialise in co-productions and co-financing international projects and are always keen to explore new partnerships with like minded partners.
The company is also one of the leading 'dubbing' facilities in Ireland, producing more than 250 hours of material each year, most children's animation and international documentary series'.
Based in the heart of Connemara, the company employs 19 full-time and 35 part-time people.
Ends