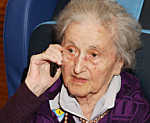 ENDA KENNY'S Donegal mum celebrated her 93rd birthday this week – but the man who will be our next Taoiseach couldn't be there because of the election campaign.
But he did manage a phone call – and a promise to be home in Castlebar before election day.
His mum, Eithne (nee McGinley and originally from Donegal), supported her late husband Deputy Henry Kenny when he was in politics.
And according to family friend Senator Paddy Burke, the support is also there for her sons.
He said: "She always supported her sons, Enda and Henry, during their careers in politics.
"She might not have been that visible on the hustings but she also was always a powerhouse on Enda's behalf in the background.
"Eithne is now quietly excited at the prospect of Enda becoming Taoiseach."