ONE of Donegal's leading judges has issued an open invitation to schools and other groups to come and see the working of the courts system.

Circuit Court Judge John O'Hagan said it is very important that young people get a taste for what happens in court from an early age.
"I would encourage all groups including schools and other clubs to arrange a trip to the courts. I think it is vitally important for young people to see justice happening before their eyes.
"I think it gives them a healthy respect for the law and a better understanding of all the work that goes on in court from the court clerk to the Gardai to the jury.
"If anybody is interested in bringing a group to court, then they should contact the court office and it will be arranged," he said.
Judge O'Hagan met with a group of students from Mulroy College in Milford last week and spent a considerable time during a court break in a questions and answers session.
The trip was arranged by well-known local barrister Fiona Crawford whose friend Aisling Crawford is a teacher at the school.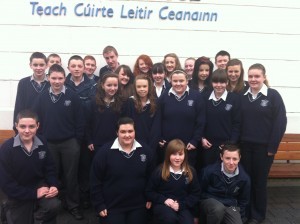 The visit was part of the group's Civic Social and Political Education curriculum.
A number of officers of the courts including registrar John Quinn, stenographer Tony O'Callaghan, senior counsel Cormac O'Dulachainn, barrister Fiona Crawford, solicitor Frank Dorrian, judge's usher David Connolly and Judge O'Hagan himself outlined their roles to the students.
The students also spent some time watching a live criminal trial.
Teacher Aisling Crawford said the students had a hugely informative day and that she would recommend it to any groups thinking of a visit.