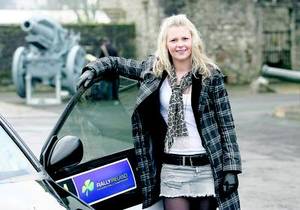 LEADING DONEGAL rally driver Toni Kelly today launched a new road safety campaign – but warned tackling speeding drivers needed a better response.
And she warned that trying to stop young people driving fast is like trying to stop a soccer fan from ever kicking a ball.
Speaking after the launch of a road safety initiative by Motorsport Ireland today in Dublin, 22-year-old Kelly said young people need to be given a safe, alternative outlet to enjoy motorsport.
She maintained that providing an alternative will help educate young people about the dangers of speeding.
The initiative by Motorsport Ireland and the Road Safety Authority was launched this morning in Dublin by the president of the Federation Internationale de l'Automobile (FIA), Jean Todt.
All participants in Irish four-wheeled motorsport events will display the UN Decade for Road Safety for the next ten years.
Mr Todt said: "Irish efforts to improve road safety have been most impressive, winning admiration around the globe but we still believe that we can do more and that motorsport can help."
As a part of the campaign, Motorsport Ireland will try to get two core messages across to young drivers that follow their sport – that taking risks on public roads isn't cool and that young people wishing to practice their driving skills can do so in a controlled environment of official events.
RSA boss Noel Brett said: "It will show that if you love driving and you love motorsport, then you should respect the roads and drive safely."