DONEGAL has one of the lowest number of smokers throughout the country.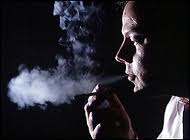 Just 19% of the population of people in the county take a drag – second only to Monaghan where only 16% of the population enjoy a sneaky fag.
The research was carried out by Aviva Health Insurance which found that Smokers spend a lung-busting €293 a month on cigarettes.
The greatest level of smokers are in Longford where 30% of the population have a regular cigarette.
And women smoke more than men with 24% of Irish women taking a drag compared to 22% of men.
The research also showed that smokers lose between 10 and 15 years of their life expectancy through smoking.
 Ends