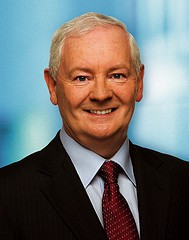 DONEGAL FINE Gael is split today over the Enda Kenny's decision to scrap compulsory Irish in schools – with outgoing deputies Dinny McGinley and Joe McHugh offering different views.
And in a shock admisson, Mr McGinley told a meeting on Gaoth Dobhair that despite a lifetime in politics and in language support, his party leader didn't consult him on the new policy.
Last night, when questioned in Letterkenny about his views, Donegal North East candidate Joe McHugh was backing Enda Kenny all the way, insisting: "We have to do something."
Fine Gael politicians in Cork, Galway and Kerry and other counties have now come out against Kenny's policy – a policy described as a 'whim' by a Mayo businessman yesterday.
The Donegal meeting was organised by Guth na Gaeltachta and Coiste Mhná Tí Thír Chonaill in An Chrannóg, Gaoth Dobhair.
Chaired Éamonn Mac Niallais explained that the purpose of the meeting was primarily to discuss Fine Gael's policy of ending the compulsory status of Irish in the Leaving Certificate.
Those in attendance include 150 local people, Dinny Mc Ginley TD (Fine Gael), Pearse Doherty TD (Sinn Féin), Senator Brian Ó Domhnaill (Fianna Fáil), John Duffy and Seán Ó Maolchallann (Green Party).
Mr McGinley spoke passionately of his personal opposition to any attempt to harm the Gaeltacht or the language. He remained to be convinced that Fine Gael's policy would not be harmful to both but that he was waiting to see what the outcome would be of the research and consultation process that Enda Kenny had promised.
He said however that there were many positive measures in Fine Gael's policy as well and he stressed his own commitment to the language and his efforts to use Irish as often as possible in Dáil proceedings.
He stated that he was uncomfortable with the policy but that research such as the Comprehensive Linguistic Survey of 2007 showed that the future of the Irish language was in jeopardy unless radical steps were taken.
Speaker after speaker left Mr McGinley in no doubt that the community is very upset and worried about the Fine Gael proposal. He was asked to explain how his party had arrived at such a decision; had it been carefully considered or was it a populist move designed to attract votes in urban areas?
One of the most robust exchanges of the night saw McGinley admit that he had never been consulted on the formulation of Fine Gael's Irish language policy. He was also at a loss to explain what specific research had been used by the party in devising its policy. McGinley attempted to calm the audience's fears by saying that that he hoped proper consultation and research would be carried out before any changes were made to the status of Irish.
Éamonn Mac Niallais asked that Deputy McGinley do as other Fine Gael candidates in the Kerry and Galway Gaeltacht had already done and express openly to Enda Kenny his opposition to this policy.
In a speech in Downings earlier this month – and published on donegaldaily.com – Joe McHugh backed the Kenny plan.
* A report on the meeting as gaeilge is also on donegaldaily.com under news/politics.