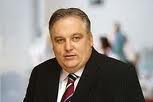 Donegal South West election candidate Frank McBrearty has called on the Tanaiste Mary Coughlan TD to give justice to the Byrne family.
Cllr McBrearty told Mary Coughlan that in her last days of government, she should do the decent thing and stop hiding behind lawyers.
He told her that with a stroke of a pen she should sign off on the compensation to which the Byrne family would have been entitled to, if they had been allowed into the Lost to sea scheme.
Father and son Francis and Jimmy Byrne were drowned off St.John's Point almost 30 years ago and Ombudsman Emily O'Reilly has agreed the Byrne family are entitled to more than €240,000 in compensation for their loss.
However the Government have refused the compensation saying the Byrnes do not qualify for the Lost At Sea scheme.
"The failure of this government to deal with issues such as the Byrne family has cost the state and will cost the state more in the future.
"We would not need to have public inquiries into such cases if governments would take the right decisions and give ordinary citizens what they are entitled to," fumed Cllr McBrearty.
Cllr McBrearty said he was not one bit surprised that Mary Coughlan's running mate Senator Brian O'Donnell took the party line on the issue.
"He also said that if we gave the Byrne family compensation it would open the flood gates for others to take case's against the state, this is not a valid reason for not giving justice to a family that has suffered from the failures of this FF government.
"Why do we have an Independent Ombudsman when this government has overruled her recommendations in this case?" asked Cllr McBrearty.
He also revealed has got a commitment from labour party leader Eamon Gilmore TD that if in government they will honour the Ombudsman's recommendations.
"Mary Coughlan continues to drive around in a state funded car canvassing in this election paid for by us, but sadly she is blind to the suffering that the Byrne family have gone through and continue to go through.
"This is more proof that radical reform is needed in government to insure that citizens are protected," added the councillor.
Ends