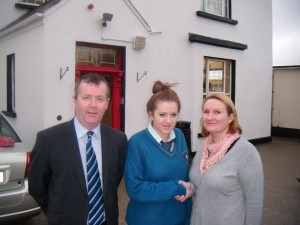 A young Letterkenny student has been named as one of 20 finalists in the Pramerica Spirit of Community Awards.
Jade Gallagher, a sixth year student at Coláiste Ailigh, received her honour for looking after the needs of an elderly neighbour.
Pramerica Spirit of Community Awards, now in its fifth year, honours young people throughout Ireland for outstanding acts of volunteerism. 
The programme is organised by Pramerica Systems Ireland Limited in partnership with the National Association of Principals and Deputy Principals (NAPD) and the General Teaching Council for Northern Ireland (GTCNI).
Jade, 18, of Letterkenny, who was nominated by her teacher Siobhan Ní Laighneach, will receive a Certificate of Achievement from Pramerica Spirit of Community later this month.
And on March 29, Jade and the 19 other finalists will be honoured at a gala awards dinner in Galway and will receive €500 and an engraved silver medallion, presented by a special guest of honour. 
In addition, two of the finalists will be named All-Ireland Youth Volunteers of the Year at the awards dinner and will receive €1,000 for a charity of their choice, a gold medallion and an all-expenses paid trip to the United States in May to take part in The Prudential Spirit of Community Awards ceremony.
Jade was selected for the honour because of the depth of her voluntary activities and describes her volunteerism experience as "uplifting and enjoyable".
Jade takes care of the provision of prescription tablets for a kidney transplant patient. The elderly man has no family to rely on and is a neighbour of Jade's grandmother.
She keeps a close eye on prescription changes and hospital appointments. As it is a life-dependant task, Jade treats it with the utmost commitment and responsibility.
Jade's constant commitment to her elderly friend's medical needs along with participating at various fundraising activities during her transition year proves a remarkable dedication to her community.
Teacher Siobhan Ní Laighneach says, "The challenge for Jade is this constant commitment week after week, year after year from a young age."  She initiated this offer of service when she saw a need and this offers peace of mind and security to more than one elderly person".
"We are proud of caring and giving young people like Jade who share their time, energy and passion so selflessly," said Henry McGarvey, managing director at Pramerica Systems Ireland. 
"Pramerica Spirit of Community showcases the tremendous work that takes place 'under the radar' by young volunteers.  We are inspired by the dedication and commitment demonstrated by Jade and the 19 other finalists."
The 20 Pramerica Spirit of Community Awards finalists were selected from second-level students nominated by their school principals last November.
The criteria on which they were evaluated included motivation, service, impact, sustainability, commitment, and personal challenge.
The All-Ireland Youth Volunteers of the Year will be selected by a committee chaired by Nobel laureate John Hume that also includes McGarvey; Mary Davis, EurAsia Special Olympics; Yvonne McKenna, Volunteer Centres Ireland; Ciaran McCormack, NAPD; and Ivan Arbuthnot, chairperson, GTCNI.
Patricia O'Brien, president of the NAPD, said the organisation is "once again delighted to be involved with the Pramerica Spirit of Community Awards Programme.  As teachers, we are very aware of youth volunteerism in our schools.  Therefore, to have a national awards programme dedicated to youth volunteerism is wonderful.
"The standard of applications this year has been phenomenal.  The finalists demonstrated massive ability, tenacity and sheer determination to make a difference in the world around them." 
 Arbuthnot said, "We are delighted to be part of this awards programme.  It not only celebrates our great young people, it also applauds and promotes youth volunteerism. I congratulate all involved and look forward to meeting our finalists next month."