Dr James McDaid has admitted that only Fianna Fail people can save the party in Donegal North East come next Friday's General election Poll.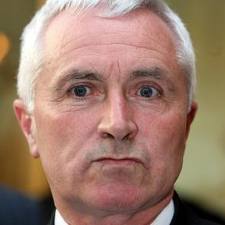 In a letter to many of his loyal supporters over the past 20 years he has asked them to put geography and parochialism aside and ensure that the constituency continues to have a F.F. representative in the next Dáil.
"On February 25th 2011 we go to the polls again but this time in very different, difficult circumstances for our party. 
"Unfortunately by hanging on in government for too long, the Fianna Fáil Party have been decimated to an extent never seen before.  We are looking for our very survival. In Donegal North – East we have a proud tradition over the ninety odd years that our republic has been in existence. 
"We have always maintained a FF presence, indeed we have provided since 1996 two seats /two votes for Fianna Fáil governments.  We were never afraid to run two candidates and our team was the envy of many a constituency," he said.
He also pleaded with Fianna Fail people not to back a candidate just because they were from a certain area – an obvious reference to the fact that Dessie Larkin was snubbed by party headquarters as its second candidate.
"How times have changed.  Today we run one candidate and our aim must be to ensure that a Fianna Fáil presence remains in Donegal North East despite these difficult times. 
"This is not a time to be parochial – not a time to claim that it's Letterkenny or Milford or Inishowen that should have the T.D. It is a time to show maturity in ensuring that Donegal North East has a FF representative in the next Dáil. 
"In our time together we took on the political giants of their generation and we always succeeded because we worked as a team and we were never defeated".
"Let it never be said therefore that, on our watch, and in our time, this constituency failed to return a Fianna Fáil TD.  Let us put geography aside and remember who we are – Fianna Fáil and we always put our party first.  With this approach we will succeed".
The veteran Fianna Fail man said Charlie McConalogue is a fine young man with a strong Fianna Fáil pedigree whom he has had the pleasure of knowing for many years. 
A member of a highly respected family in his native Inishowen, he is intelligent, sensitive, and considerate and his integrity is of the highest order.
"He possesses all the necessary ingredients, which go to make up an interesting outgoing personality; he has no trouble interacting with others be they individuals or groups. 
"He is that type of person his talents include a sense of responsibility way beyond his years.  I have no hesitation in recommending him to fight on our behalf. He will be an impressive addition to Dáil Eireann," added Dr.McDaid.
Ends