Two of the country's top boxing coaches will be in Donegal to give a boxing masterclass next month.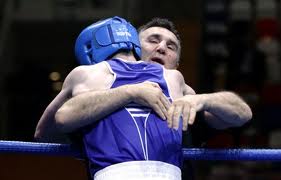 Billy Walsh , High Performance Team Coach & Zaur Antia, Technical & Tactical Head Coach will be delivering a boxing master class on Tuesday 1st March 2011 at the Letterkenny Boxing Club facilities on the High Road, Letterkenny.
The workshop will start at 6.30pm to 8.30pm approximately and will focus on fundamental techniques for developing young boxers and on Billy's and Zaur's experiences within boxing.
There will also be some practical elements for participation so coaches come prepared – tracksuit / runners etc.
To allow all club in Donegal to have representation we are restricting numbers to two per club, the maximum number will be 30 in total. The session will have a €5 per person cover charge.
To register please contact the DSP office at the numbers below or via email return with the names and mobile contacts before Wednesday 23rd Feb.
This programme is part of the North West Coaching and Club Development Network which is supported by the Programme for Peace and Reconciliation for N Ireland and the Border Counties.
Ends