A Donegal Judge was hit in the chest by a chair thrown by the brother of Irish soccer star Richie Foran.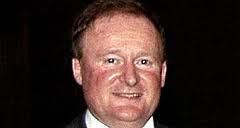 Moville justice Sean McBride was left shocked and aching after the incident at Cavan District Court but did not have to be hospitalised.
The attack happened after Judge McBride sentenced Patrick Foran, 34, jailed him on foot of a bench warrant.
Dubliner Foran, who moved to Cavan several years ago, went berserk when Judge McBride put behind bars, and lashed out.  
He threw a chair towards a female court clerk but she managed to jump out of the way.
Judge McBride, who practised as a solicitor in Donegal for many years, was not so lucky and the chair him straight in the chest after bouncing off his desk.
Out-of-control Foran then had to be restrained by several Gardai using pepper spray.
Foran, of Carnin, Ballyjamesduff, was then brought to Castlerea Prison where he is still being detained.
Judge McBride is one of the most respected Judges on the District Court Circuit.
His no-nonsense style has gained him notoriety as well as some receiving some negative comments.
Ends