THE heartbreaking funeral of tragic Convoy athlete Shane Bonner takes place tomorrow (MON).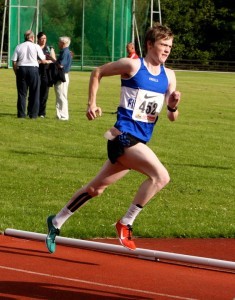 Hundreds of people turned up for the 20 year old's removal yesterday.
Shane was killed in the early hours of Thursday morning when he was hit by a truck at Lurgybrack near the Dry Arch Roundabout in Letterkenny.
The popular Convoy man's death had left his wide circle of family and friends devastated at his sudden passing.
Message boards and social network sites have been crammed with tributes to Shane who was an All Ireland cross country winning runner.
Tears flowed at the morgue at Letterkenny General Hospital as his family including mum Kay and dad PJ took him home to his house on Main Street in Convoy for what it expected to be a huge wake.  
Friends from the Finn Valley Athletic Club posted a picture and a message in tribute to Shane in which they said his life would go on despite his sudden death.
This was a reference to the brave and selfless decision by Shane's family to donate his organs so that others might have a chance to live after his death.
"Friday 18th feb a day that will be etched for ever in our memories. A day that we lost a friend a brother and a fellow athlete as a result of a tragic accident.
"We at Finn Valley athletic club are in mourning on the sad passing of our beloved Shane who passed away peacefully in Letterkenny General Hospital in the presence of his family friends and FVAC club members We extend our deepest sympathy to his family and all who knew him.
"May you rest n peace Shane. You will always be in our thoughts. Your smile and sense of humour will be sadly missed and in death shane you will have given life. RIP," said the message.
Shane will be buried after 11am funeral mass at St.Mary's Church in Convoy on Monday morning.
Ends