WE all knew that life has been a little 'ruff' because of the hike in the price of petrol and diesel but this is stretching it a little far!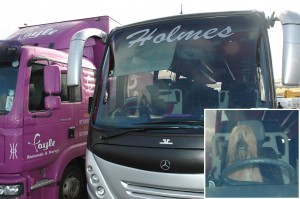 Donegaldaily.com reader Damian O'Callaghan caught this superb picture at today's fuel protest in Letterkenny.
We're not sure if the dog was driving the bus at the time he took it, but he sure looked like he was the 'mane' man.
 We were just wondering if he was planning to go for a night out at the dogs in Lifford after a hard day on the protest line?
According to the organisers of the protest they'll continue to 'hound' the Government to reduce the price of petrol and diesel!
Ends