This is the scene as a fleet of trucks, tractors, taxis and trailers took to the streets of Letterkenny today to protest at rising fuel prices across the country.
A convoy of more than 100 vehi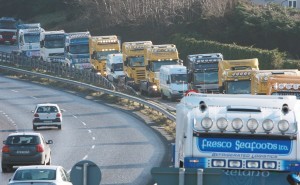 cles from across Donegal and further afield lined up on the dual carriageway outside the town at the Dry Arch Roundabout to voice their anger at Government tax on petrol and diesel.
Many trucks carried banners with one stating 'The Government deserves a thump for the prices at the pump.'
Gardai were forced to give the protesters an escort as even more vehicles than expected drove through the town's busy Main Street beeping their horns and flashing lights.
The protest was organised by local haulage boss John McLaughlin of JML transport who said his company has been decimated in the past year because of rocketing fuel prices.
John, from Convoy, revealed his once thriving workforce of 78 employees has been dwindled down to just eight.
"The Government has to step in and look after the ordinary person trying to make a living. My company has been virtually destroyed and there are many more like me.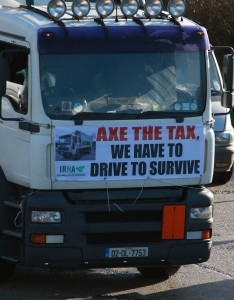 "This Government or possibly the new Government has the power to slash taxes and bring down the price of fuel which is crippling anybody who needs a vehicle for work.
"We are delighted at how the protest has gone today. The number of people from farmers to taxi drivers and from truck drivers to ordinary motorist who turned up has been incredible.
"The message has gone out loud and clear that something needs to be now and done fast," he said.
 John said he is now considering taking his protest to Leinster House on Wednesday.
Also at the protest was Independent election candidates including Ryan Stewart and Dessie Shields who said they were fully behind the convoy.
Ends