Donegal's own King has invited the Queen of England to visit him if she goes ahead with her visit to Ireland in May.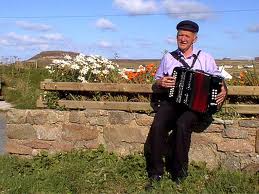 For the past 12 years Patsy Dan Rodgers has been the King of Tory island after being voted onto the throne by his fellow islanders.
Now Patsy Dan, an accomplished painter and musician, has said he has no problem whatsoever shaking the hand of the head of the British Monarchy.
"Hers is a very different monarchy. Mine is very simple. I don't have a castle or a crown but I do have great respect for the Queen.
"If ever she decided to visit Tory, she'd be extremely welcome," he said.
Patsy, 67, says he doubts if she'll come to Donegal so he might just go and make an appointment to see her himself.
"I don't expect to see her in Tory when she's over, but if I'm in Dublin that day I'll have no hestitation in going along to welcome her," he said.
Ends