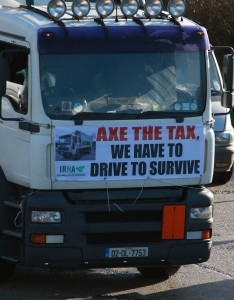 THE organisers of a fuel protest in Letterkenny at the weekend are to take their protest to Leinster House this Wednesday.
The truckers and hauliers are hoping they will be joined by outraged colleagues for the Dublin protest.
On Saturday past around 70 trucks, taxis and other vehicles assembled in Letterkenny as part of a protest against continuing rises in fuel prices and carbon taxes.
The organisers, who included local hauliers and business people, said they were outraged at rising fuel costs which they say are affecting businesses and families.
They called for the carbon tax to be scrapped.
The protestors gathered outside Letterkenny before moving into the town where a crowd of around 200 people listened to speeches by local politicians and election candidates.
Organiser John McLaughlin led more than 50 trucks to the outskirts of Dublin tonight to prepare for the protest.
He said: "We are calling on anyone who wants to join us in Dublin on Wednesday to do so. We welcome everyone whether that is someone in a tractor or a a lorry. We need our politicians to know how much we are suffering."