ONE OF Donegal's top hotels has gone into receivership – with its affairs now being run by the Bank of Ireland.
The Shandon Hotel at Marble Hill Strand, Port na Blagh, had a receiver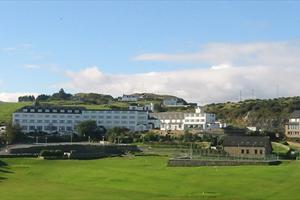 appointed by the bank last week. He is Aiden Murphy of Horwath Bastow Charleton.
The hotel is owned by well-known business couple Dermot and Catherine McGlade.
They had added a spa centre to the facility which is very popular with tourists from the North.
The hotel's top quality restaurant and bar are also popular with people staying in the large number of caravan parks and holiday homes in the area.
On the hotel website Catherine McGlade spoke with pride of that centre.
"We worked closely with architects who specialise in spa design, to develop an environment, which immediately gives a sense of calm and well being and takes its inspiration from the naturally beautiful Sheephaven Bay.
"In addition, we wanted our customers to take advantage of the spectacular surroundings of Shandon Hotel Spa and Wellness. Our Canadian hot tub, vitality area and relaxing space all have uninterrupted views of the bay."
The hotel continues to operate normally.