From the author of hit comedy A History of the Troubles (according to my Da) comes yet another box office hit – The Chronicles of Long Kesh.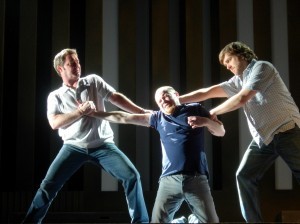 Brilliant Belfast playwright Martin Lynch's painful, shocking and hilarious story of Northern Ireland's infamous prison – Long Kesh – told through the eyes of prison officers, Republicans and Loyalists, is a rich assortment of patriots, chancers, leaders, wives, escapers and hypochondriacs!
A huge crowd-pleaser, The Chronicles of Long Kesh is full of 1960's Motown songs and wild, irreverent humour. It comes to An Grianán Theatre from Thurs 24 to Sat 26 Feb at 8pm.
First performed in Belfast in January 2009, the play has gone on to celebrated runs at the Edinburgh Festival (Winner Best Ensemble, Stage Awards 2009) and London's Tricyle Theatre.
Played out at breakneck speed, and with tremendous energy, passion and wit, it tells the story of the Long Kesh/The Maze Prison from its opening in 1971 to closure in 2000. Time is marked with Motown classics, prison breaks are conducted under the cover of Smokey Robinson, and the stories are angry, devastating and, at times, hilarious.
As part of the writing process Lynch interviewed over 40 ex-prisoners, prison officers, welfare workers and families who had been affected either directly or indirectly by life in Long Kesh. It was a subject that Lynch has long being fascinated with:
"Long Kesh is something that's always been bubbling away in my head for a long, long time.
In the '70s I was involved in the official republican movement, so a lot of the people who were in jail I would have known. Everybody around you was going into jail and coming out with these stories.
"A prison like Long Kesh… when you look at it in the wider context in terms of its impact on this community, over 20,000 prisoners saw the inside of it, from both backgrounds, Catholic and Protestant.
"Then you had something like 5,000 warders who worked in the prison, and when you add up all the numbers of family members who visited the prison, you're probably talking upwards of 80,000 people who have all been inside the confines of Long Kesh."
The play includes many of the major events at the prison including the 1974 burning of the camp, the Dirty Protest, The Hunger Strike and The Great Escape but concentrates mainly on the individual experiences of the inmates.
"The interview process, for me, was an extraordinary experience," Lynch continues. "I saw a side of these men that I hadn't read about in any of the books written so far. I heard stories that had me close to tears and others that had me doubled over with laughter. Long Kesh seemed to be that kind of experience. I hope I've done the story justice."
"The other thing I wanted to do was use loads of music, so I have a guy who's a Smokey Robinson fanatic, he has the guys doing all the Temptations routines and Tamla Motown stuff, because the prisoners survived with song and story."
The Chronicles of Long Kesh is at An Grianán Theatre from Thurs 24 to Sat 26 Feb at 8pm. Tickets only €10 (€8 concession). Project supported by PEACE III Programme managed for the Special EU Programmes Body by Donegal County Council. Tickets available at www.angrianan.com or call the box office on 074 912 0777.
ENDS