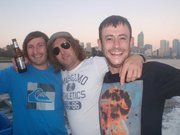 A LETTERKENNY mum and dad have said they are grateful their daughter is alive after the horrific New Zealand earthquake.
Michael and Margaret Dunne spoke of their relief after their daughter Mary's home was completely destroyed in the horror. 
"The phone rang at three in the morning so we knew something is wrong," Margaret said.
"It was our son-in-law in Auckland assuring us that Mary and the two boys were safe.
"It was a traumatic night for us, we just wanted to hear her voice.
"Mary lives about 10 minutes away form the centre of Christchurch and her home was destroyed in the earthquake.
"Everything they had is gone," Margaret said.
"She was in the house when it happened and the boys were at school. As she ran in her bare feet to get them the water came gushing up through the road.
"She said when she got to the school all she could hear was the children crying.
"She said it was the most the frightening and sad thing she had ever heard. She will never forget it as long as she lives.
Meanwhile a Ballybofey man has told of his horror at trying to dig a man out of the rubble of the horrific New Zealand earthquake – as it emerged tonight that five Irish people are missing.
Patrick McGowan, son of the well-known Fianna Fail county councillor, revealed how he tried desperately to perform CPR on a man after pulling him from the wreckage of the disaster which has so far claimed 65 lives.
Patrick was working at his desk on High Street in Christchurch when the 6.3 level quake hit and he went outside to find a scene of devastation.
"There were cracks in the middle of the road and it was just really shocking, it was a bit unbelievable for a while.  I started to move away slightly, only got couple of shops away and I could see people in trouble inside one of the shops. 
"I immediately ran in to try and help those people, realised there loads of people under where I was.  We tried to clear bricks away and lifted up steel and we could see people.
" I knelt down, got my shoulder under steel, I was trying to wake a guy. There was a girl lying beside him who was conscious and she was half buried. We eventually got the rubble off them, we pulled a man out who was unconscious.
"I kind of knew by the time we had him out he was dead, we kept doing CPR but the guy sadly passed away , we kept doing cpr until a doctor came and pronounced him dead," revealed Patrick.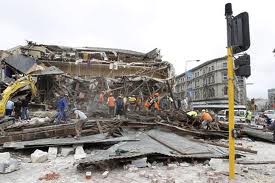 Patrick then revealed how a policeman asked him to prevent people from walking down the street after he smelled gas.
 Patrick father Patrick Snr revealed he had spoken to his heroic son who had assured him he was okay.
 "He was a lifeguard in Jacksons Hotel for years and he has built up certain skills. But we are just delighted he is okay," he said.
The Department of Foreign Affairs says it believes five Irish nationals are now officially missing after the quake.
Ends