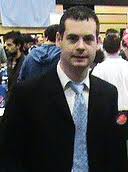 Sinn Féin general election candidate for Donegal South West Pearse Doherty has warned that a vote for Fine Gael this Friday is a vote against the Irish language. (A version of this story as gaeilge is at the end of this story).
In a statement today, Mr Doherty said that his party is committed to the protection and restoration of the Irish language.
The Gaoth Dobhair native also called on Fine Gael to end their policy which would demote the language at Leaving Cert level, saying it would have serious consequences for the language and the Donegal gaeltacht.
Mr Doherty said: "In contrast to Fine Gael, Sinn Féin is committed to the protection and restoration of the Irish language. Fine Gael's policy would end the use of the Irish language as we know it. Gaelige is a key part of our identity as Irish people and must be promoted among our children.
"Rather than taking measures that will contribute to the dissolution of Irish, we believe the state should in fact be taking constructive steps to strengthen, support and encourage its growth."
He warned: "The gaeltacht's summer colleges are vital to our local economy with thousands of children visiting west Donegal to learn our native language. This in turn promotes tourism in the area as many will often return throughout their adulthood, having discovered our stunning scenery and vibrant culture whilst studying here as a child.
"Sinn Féin believes that the future of the Irish language depends upon the continuing existence of sustainable Gaeltacht communities where Irish remains the primary language of the community. These communities must be protected, supported and developed. That is why we advocate proper resourcing into the education system and we are promoting the right to be educated through the Irish language."
"Unlike Fine Gael's flawed proposal to de-prioritise Irish by removing it from the second level education system as compulsory, we in Sinn Féin commit ourselves 100% to its promotion and we will work with all parties to improve the way Irish is taught in schools."
"We recently launched a list of proposals which we believe if implemented, would further protect the Irish language. One among many of those proposed is that there should be an Aire Gaeilge agus Gaeltachta in Cabinet with responsibility to deliver on the 20 year strategy.
"Equality is an integral part of a democratic society and this, as we have stated in our party's manifesto, includes upholding the rights of Irish language speakers.
"We also believe the right to education through Irish should be constitutionally and legally enshrined as one of the primary steps in protecting its existence for generations to come."
IRISH VERSION
Impleachtaí tromchuiseacha ag moltaí Fhine Gael ar Ghaeltacht Dhún na nGall, áit a molann siad ísliú stadais don Gaeilge san Ardteist.
Deir Pearse Doherty, iarrthóir Shinn Féin san olltoghchán i nDún na nGall Thiar Theas, go bhfuil rún daingean ag a pháirtí an Ghaeilge a chosaint agus a athshealbhú.  D'iarr sé ar Fhine Gael deireadh a chuir lena bpolasaí a thugann ísliú stadais don Ghaeilge ag leibheál an Ardteist, ag rá go mbeidh impleachtaí tromchuiseacha ag seo ar an teanga i nGaeltacht Thír Chonaill.
Dúirt Pearse Doherty
"Neamhchosúil le Fine Gael, tá rún daingean ag Sinn Féin an Ghaeilge a chosaint, a fhorbairt agus a athshealbhú.  Chuirfeadh polasaí Fhine Gael deireadh glan le úsáid na Gaeilge mar a thuigeann muidinne é.  Mar Éireannaigh, is í an Ghaeilge dúshraith ár bhféiniúlachta agus caithfear í a chuir chun cinn i measc ár bpáistí.
"In áit a bheith ag gníomhadh go diúltach in éadán na Gaeilge, creideann muidinne gur cheart don stáit a bheith ag gníomhadh go dearfach chun forbairt na teanga a láidriú agus a fás a neartú.
"Tá na colaistí Samhraidh ina ngné rí-thábhachtach don eacnamaíocht áitiúil, áit a dtagann na mílte páiste gach bliain chun ár dteanga dhúchais a fhoghlaim.  Cuireann seo go mór le tionscail na turasóireachta sa cheantar.  Mar gheall ar áilleacht na háite agus ar shaibhreas an chultúir, tagann cuid mhór acu ar ais nuair a fhásann siad suas agus teaghlaigh dá gcuid féin acu.
"Creideann Sinn Féin go bhfuil todhchaí na Gaeilge ag brath ar phobail inbhuanaithe Gaeltachta ina bhfuil an Ghaeilge mar phríomh theanga.  Caithfear na pobail seo a chosaint, caithfear tacaíocht a thabhairt doibh agus iad a fhorbairt.  Sin an fáth go n-éilíonn muidinne go mbeadh na hacmhainní cearta curtha isteach sa chóras oideachais agus fosta táimid ag cur chun cinn oideachas tré mheán na Gaeilge mar cheart.
"Neamhchosúil le polasaí fabhtach Fhine Gael an Ghaeilge a ligeann i léig trí a stadas éigeantach sa chóras oideachais a tharraing ar shiúl, tá muidinne i Sinn Féin 100% tiomanta chun í a chuir chun cinn.  Tá muid toilteanach oibriú le gach páirtí chun modh teagasc na Gaeilge a fheabhsú sna scoileanna.
"Lainseáil muid liosta moltaí le goirid agus tá muid cinnte dearfach má chuirtear i bhfeidhm iad go rachaidh siad go mór chun sochair don teanga.  Ina measc tá moladh gur cheart de Aire Rialtais Gaeltachta agus Gaeilge a bheith ann a bheadh freagrach as an Straitéis 20 bliain a chuir i bhfeidhm.
"Tá comhionannas fite fuaite le sochaí daonlathach agus, mar atá ráite againn in ár fhorfhógra, cumhdaíonn sin cearta na gcainteoirí Gaeilge.
"Creideann muid gur chóir don cheart oideachas a fháil trí mheán na Gaeilge a bheith cumhdaithe go bunreachtúil agus go dlíthiúil mar an chead chéim i gcosaint na teanga do na glúnta atá le teacht.