Donegal North East election candidate Charlie McConalogue can certainly do the 'business' according to one old dragon.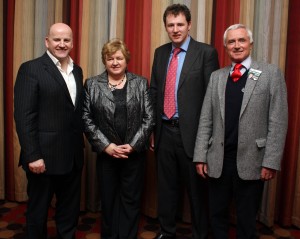 Sean Gallagher of RTE's Dragon's Den fame has given his backing to the Inishowen man before Friday's big vote.
According to Gallagher, the 33 year old Fianna Fail man can change politics and the political system for the better. 
He made his comments at an election rally on Sunday night where he gave a full endorsement of Charlie McConalogue to a crowd of 300 people.
Returning to the core values of community and going back to our roots of society is what will make this country great again was the key message delivered by Gallagher. 
He also pointed out that while our country if facing its most difficult financial crisis in history our international reputation wasn't built in the last 18 months and nor will it be permanently damaged in such a short space of time. 
He said he is heartened through his extensive travels the length and breadth of the country that a strong spirit of entrepreneurship still exists and one which is growing.
 Cllr McConalogue said, "It is only through strong representation in Dáil Éireann that we can have a voice to contribute to reform of the political system.  I want to be that voice."
 "I recognise we are fighting a difficult battle but I am determined to do everything I can to ensure that we maintain a seat in Donegal North East.  I will need every single vote on Friday if I am to become a voice for the people of Donegal North East in Dublin".
Ends