The organiser of a massive truck protest which converged on Dail Eireann today has revealed he has secured a meeting with the new Minister for Transport.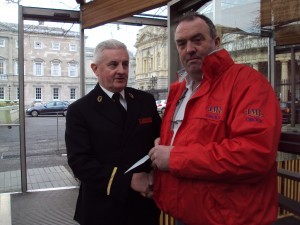 But Donegal businessman John McLaughlin warned that if polticians don't keep their promise, he will bring the country to a standstill with another huge truck protest.
The Covoy-based haulier, of JML Transport, today handed in a letter of protest at Leinster House complaining about the recent hike in fuel costs.
Gardai appealed to protestors not to bring Dublin to a standstill and an agreement was reached to allow just 15 vehicles into the city centre.
Mr McLaughlin earlier led a fleet of trucks into the city centre after travelling from Donegal on Monday and picking up almost 100 vehicles along the way.
They were also joined by two coach-loads of people from across Donegal who travelled up earlier this morning.
Now the Donegal businessman has revealed he has been promised a meeting by Fine Gael if, as expected, they win the upcoming general election.
However Mr McLaughlin, whose workforce has been depleted from a workforce of 78 to just 8 within two years, has promised strong action if he does not secure that meeting with the Government.
"We have behaved ourselves all along and done everything by the book and co-operate with the Gardai.
"We are hopeful that we can get that meeting with the new Government and we have to take people on their word on that.
"But I can tell you that if we do not get that meeting within three weeks then we will bring this country to a standstill with a massive truck protest.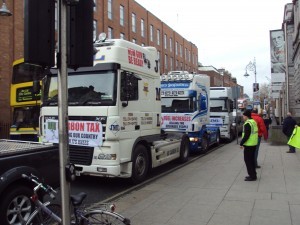 "That is not a threat but we have to follow through with this and show the new Government that we mean business.
"This does not just involve the transport companies because the ordinary person on the street is having to pay up to €20 a week just to run their car and they simply can't afford that," he said.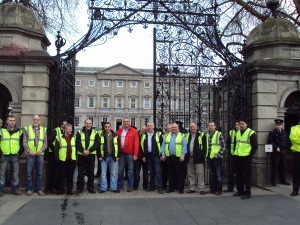 Ends