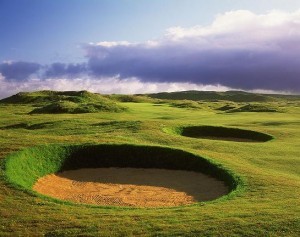 DONEGAL got another tourism boost today – after one of the county's top golf courses was given a 'must play' write-up by the world's leading golf website.
Golf International's article also appeared on the official PGA Tour website.
The article states: "If the name, Donegal, conjures up a special image of the real Ireland, then Ballyliffin will be for you. Located at the northernmost tip of Ireland, at the top end of County Donegal, this is the place for nature lovers, hill walkers and those who just yearn to view the best of Mother Nature's handiwork. Spectacular scenery and clear fresh air, some say the freshest in the world, are all here in abundance.
"Ballyliffin Golf Club was inaugurated in 1947 and today boasts 2 eighteen-hole layouts. The Old Course, where golf had certainly been played way before the formation of the club and though records remain quite hazy as to who the architect might have been, it is clear that the principal designer was Mother Nature herself, as there may be no more natural course in the entire world.
"The second course at Ballyliffin, the Glashedy Links, has a more documented pedigree. Designed by the noted Irish architect, Pat Ruddy of European Club fame, working with Tom Craddock, Glashedy was opened in 1995. There are those who claim this may well be the best links course designed in the British Isles in half a century, despite its relative youth.
"For those who journey this far, both courses must be played. Each has its own distinct personality and it is impossible to rate one higher than the other; they are both a joy to play and present quite contrasting challenges.
"Some have called the two courses at Ballyliffin, formidable, while others have used much stronger language. The pair is well worth the trek for the seasoned golfer who is looking for a lot more than many other courses are able to provide."
Other Donegal courses are also given the thumbs up on the website
It says: "Bundoran, Donegal's Murvagh, Rosapenna, Portsalon and Ballyliffin are layouts that simply must be played by any serious golfer. Each is a treat and guaranteed to provide a genuine Irish golf experience ranking alongside the very best."