TAOISEACH-IN-WAITING Enda Kenny has hinted that veteran Donegal TD Dinny McGinley will be a Minister if Fine Gael form the next Government.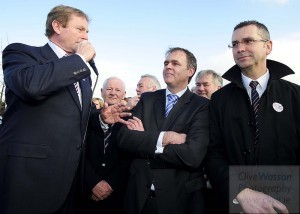 The Fine Gael leader was speaking in Donegal Town this morning during his whistle-stop tour of Donegal.
The country's next leader was grilled about rising fuel prices, cancer services, carer's concerns and abortion during his visit.
Now Pat Nora Gallagher, the director of elections for Fine Gael south west, says Gweedore veteran politician Dinny McGinley is about to step into the national limelight at last.
"Enda Kenny has received a tremendous reception in Donegal and he is confident of getting at least two TDs in the county.
"But he has hinted that there are good things in line for Dinny McGinley so we will have to wait and see. But he knows what a loyal servant Dinny has been for Fine Gael," said Mr Gallagher.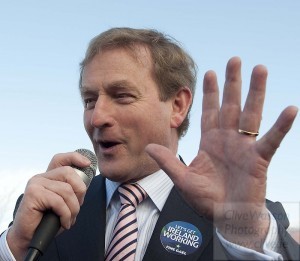 The Fine Gael leader had stayed in Letterkenny on Wednesday night but travelled to the Inishowen Peninsula to address his party yesterday morning.
After a rousing speech at An Grianan Hotel in Burt in which he told supporters that they must now ensure they cross the finish line, the Mayo man was once again hard to keep up with as he set a blistering pace.
He was stopped in his tracks however by haulage company owner John McLaughlin of JML Transport who handed the Fine Gael leader a letter of protest about rising fuel prices.
Noelle Duddy of Co-operating for Cancer Care North West tackled Mr Kenny on his party's view on cancer services in Donegal and she was told that Fine Gael will seek to retain and improve all cancer services at Letterkenny General Hospital if elected to Government.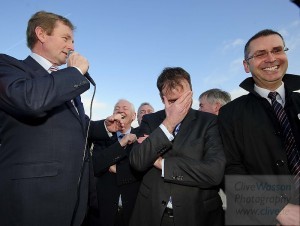 But seconds later it was time to board the party bus again and, after a brief stop for more photos at Letterkenny, the man being tipped to be the next Taoiseach was off again.
In Donegal Town traffic literally came to a standstill when a large crowd gathered to see the Fine Gael leader in The Diamond.
There he met with delegations from the Carer's Association as well as an anti-abortion group.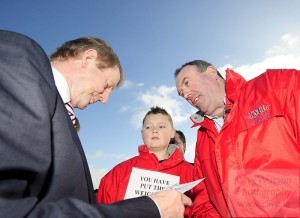 In contrast Fianna Fail leader Michael Martin said he did not have the time to visit Donegal during his campaign but he said he was confident his party can secure two seats in the county.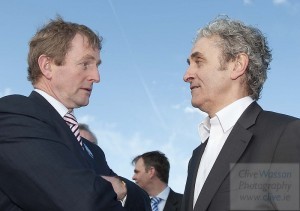 Meanwhile Deputy Joe McHugh has said that Fine Gael will follow a five point plan to introduce traditional jobs back to Donegal.
* ALL PHOTOS BY CLIVE WASSON PHOTOGRAPHY
Ends