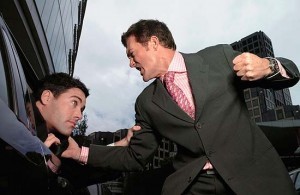 DONEGAL DRIVERS are the most likely in the entire country to beep their horn in fits of rage behind the wheel, a survey has found.
And one in three motorists in the county admitted to make rude gestures to other motorists.
Half of Irish drivers have admitted to letting road rage get the better of them within the last three years, said AA Ireland.
The organisation said it had polled over 10,000 motorists on the subject and found that 49.6 per cent of them had found themselves acting uncharacteristically aggressively as a result of the actions of other motorists.
Male drivers were more likely to succumb to road rage than their female counterparts – though women were more likely to beep their car's horn at another driver than men were.
22.5 per cent of men admitted to having rolled down their windows to yell at another motorist, while over 6 per cent said they had gone so far as to get out of their cars to confront another driver over their behaviour.
By comparison, about 3.5 per cent of women admitted to leaving their cars to vent their fury, and 12 per cent had rolled down their windows.
One in five drivers, overall, admitted to deliberately tailgating another driver, while almost half – 48.1 per cent – said they had made rude gestures at other motorists.
The results for Donegal don't make great reading…..
Donegal (127 responses)
Excessively beeped their horn at another driver: 63.00%
Made rude gestures at another driver: 35.40%
Deliberately tailgated another driver who had annoyed them: 22.00%
Rolled down their window to yell at another driver: 13.40%
Got out of their car to confront another driver: 3.10%