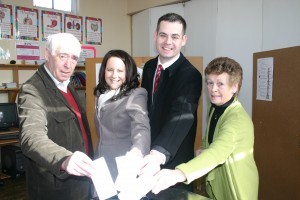 VOTING finished last night in Donegal's two constituencies with a large turn-out in both.
Some reports are putting the South West of the county at an average of up to 70% with as much as a 73% turn-out in Kilcar.
The North East of the county is slightly behind but only just with reports of up to a 68% turnout for stations from Letterkenny to Malin.
Both are considerably up compared to the last General Election in 2007.
Despite a slow start to the morning, there was a strong swell of voters in the afternoon with as much as 38% reported in both constituencies by 5pm.
And after that returning officers reported a rush to polling stations between 6pm and 9pm.
Counting in the 2011 election will not begin at both the Aura Leisure Centre in Letterkenny and the John Bosco Centre in Donegal Town until 9am.
Tallies are expected as early as 11am in both centres but a long day waits in store considering what many see to be a battle for the third seat in each constituency – especially in Donegal North East.    
There has been reports of large numbers of younger people using their vote at this General Election.
Earlier polling booth staff said voting in Donegal South West had been slower than it had been in the by-election three months ago, but by early afternoon around 20% of people had cast their vote.
Over lunch polling booths in Donegal Town, Ballybofey and Gaoth Dobhair were said to be 'extremely busy'. This afternoon there were also large numbers of people voting in Ardara and Killybegs.
In one booth at Illistrin in Donegal North East staff said it had been particularly slow this morning followed by a lunchtime rush. Most people are expected to vote between 6pm and 10pm.
Polling stations in Letterkenny were busy this afternoon – as were polling stations in Buncrana and Moville.
Voters have until 10pm to cast their vote with party leaders all calling on as many people as possible to exercise their democratic right.
In Donegal there are so many unknowns – with battles expected for the third seats in both constituencies.
The collapse in support nationally for Fianna Fail is the main talking point locally, with pundits guessing as to whether than will also happen in our two constituencies.
Labour's Jimmy Harte is the biggest threat to Fianna Fail in Donegal North East – while some people believe independent Thomas Pringle has a chance of the third seat in Donegal South West.
DONEGALDAILY.COM will be bringing you a live election news ticker throughout the counts in Letterkenny and Donegal Town tomorrow.
Results will be posted live – along with interviews and comments from the count centres and the political teams there.
We will have reporters and photographers monitoring developments throughout the day.
So log on to donegaldaily.com throughout tomorrow – for exclusive and live coverage of one of the most exciting general elections ever.