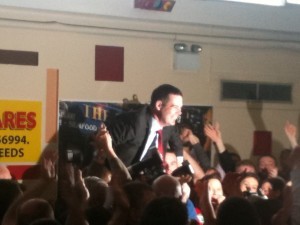 00:44 A big thank you from everyone at donegaldaily.com to all of you for making us the biggest source of news in Donegal. We'd like to thank all the candidates for their help throughout the day as well as every staff member at the count centres. A full election lead will be online in a couple of hours. Until then oiche mhaith agaibh…
o1:41 There's some people on the pitch at the Aura leisure centre…They think it's all over…It is now!
01:35 Result of the Ninth Count which gave Charlie the seat was as follows: Distribution of Joe McHugh's surplus of 2,569. Jimmy Harte +1,088 to 7,219; Charlie McConalogue +731 to 8,976. Said Charlie: "I am absolutely delighted. It was a very difficult day especially for Fianna Fail nationally." He paid tribute to Jimmy Harte and John Ryan and added: "We all worked together in Donegal North East and I am delighted we did. We have started to re-energise the party and that is the re-building we need to do throughout the country."
01:34 Charlie McConalogue is new Fianna Fail TD for Donegal North East
01:20: Charlie McConalogue will be announced the third TD for Donegal North East shortly….drink anyone?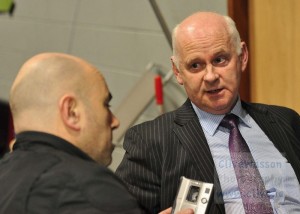 00:49 Big thank you to Fiachra and Edel for your kind words. Biggest day ever on donegaldaily.com. We've had readers from all over Donegal and Ireland – and from 83 countries worldwide. We know some of you are abroad by choice. And many of you are where you are because of the recession. We hope you are well. Our best wishes to you from Donegal tonight….
00:47 Politics can be cruel…Steve sends in this: "Breaking news: Mary Coughlan has been spotted in the car park of the John Bosco centre comfort eating. She has already gone through a full box of PRINGLES!"
00:41 It's not over just yet. The result of that Eighth Count (quota 9,480) was as follows….Jimmy Harte +485 to 6,131; Charlie McConalogue +734 to 8,245; Joe McHugh +3,318 to 12,049. McHugh elected. Joe McHugh's surplus is now being re-distributed between Harte and McConalogue. The Fianna Fail man is looking like a cert for the third seat…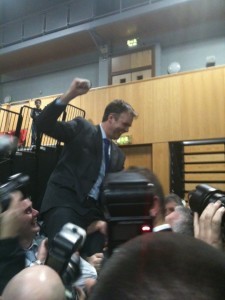 00:34 Joe McHugh said: "I want to pay tribute to John Ryan for all his hard work and I want to commend him and his family as well as Fine Gael. There is a lot of hard work ahead. We have to pull together as a community and I want to work with the TDs in this county as well as with the business sector…I am delighted to be part of the biggest party in Donegal North East."
00:31 Breaking News: Joe McHugh re-elected. Latest count to follow
00:24 Labour Party sources say they may just be 100 votes away from Charlie McConalogue….more drama on the way??? Is there a re-count on the way???? Just ordered more coffee (and cornflakes).
00:01 Sunday morning coming down…a new day, a new dawn. Coffee number 27 on the way.
23:45 It's looking like the 1,865 gap between Fianna Fail's Charlie McConalogue and Labour's Jimmy Harte may be too large for the latter to bridge. Harte would need a massive transfer in this Eighth Count as John Ryan's 5,081 votes are now distributed.
23:40 (quota 9,480) Seventh Count from Donegal North East was as follows: Jimmy Harte Labour +845 to 5,646; Charlie McConalogue FF +256 to 7,511; Joe McHugh +584 to 8,731; John Ryan FG +105 to 5,081.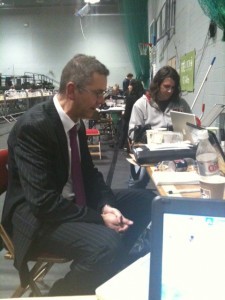 23:39 John Ryan (FG) eliminated
23:29 Donegal North East. Count of Dessie Shiels 2,605 votes continues.
23:24 Just the count at the Aura Leisure Centre continuing into the night. And if any of our new TDs are reading this (and we know you are!) the awful broadband service in the county's main town today has been a bit of a joke. There's better service at a Tesco self-check-out…..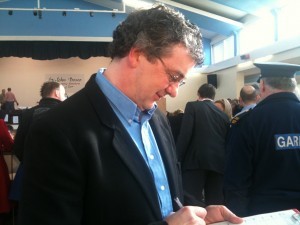 23:05 Official declaration made in Donegal South West. Dinny McGinley congratulates Thomas Pringle and Pearse Doherty. Deputy Pringle (get used to it folks) told us: "It will take a while to get used to. I want to thank everyone who voted for me. I am humbled but I will be keeping my direct link with all the communities in the constituency. This is the start of a process of change and I want to make sure the weaker members of our society are looked after." He promised a huge party in Killybegs tonight…We're behind you in the red taxi Thomas!!!
22:53 Sorry if your service dropped off for 50 seconds there. Huge traffic on donegaldaily.com today. In Donegal North East Dessie Shiels has been eliminated. Jimmy Harte may be too far behind Charlie McConalogue. Jimmy however admits it will be difficult to bridge the gap. "Letterkenny is the loser," said Harte. "Our campaign was well on track until pro-Lifers handed out leaflets saying that a vote for me was a vote for abortion. That was despicable." The results of the Sixth Count was as follows: 
Jimmy Harte                      Lab      +266              4801
Charlie Mc Conalogue     FF     +191                7064
Joe Mc Hugh                      FG      +485                8147
John Ryan                          FG        +26                 4976
Dessie Shiels                      Ind       +306              2605      ELIMINATED
Dessie Shiels' 2605 votes now being distributed
22:42 A NIGHT of drama in Donegal as the political landscape has changed. Thanks to our 23,467 readers (or unique users as they're called) for all your comments so far today. It's not over yet…and a big hello to Deirdre down Bundoran way, Pat in San Francisco, Mary in Carndonagh, John Doherty in Florida and Kieran in Adelaide.
22:36 Fianna Fail has been wiped out in Donegal South West. The distribution of Mary Coughlan's vote went as follows….Dinny McGinley +72 to 11,369; Thomas Pringle +1,036 to 10,175; Brian O Domhnaill +3,110 to 8,834. The two candidate strategy has backfired spectacularly.
22:35 Dinny McGinley and Thomas Pringle are elected on last count in Donegal South West…
22:25 Mary Coughlan has left the Donegal count.
22:22 The national picture: FG 30 seats; Labour 19; Sinn Fein 5; FF 5. Fianna Fail could lose 5o seats….
22:20 Starting to flag a wee bit now…Thomas Pringle however is far from it. He has promised to fight for the people of Donegal South West…once he pops, he just can't stop!
21:52 Donegal North East. Distribution of Dara Blaney vote. Fifth Count Result: Jimmy Harte + 216 to 4,535; Charlie McConalogue +248 to 7,064; Ian McGarvey +244 to 1,653; Joe McHugh +138 to 7,662; John Ryan +66 to 4,950; Dessie Shiels +214 to 2,299.
21:42 Fifth count: Donegal North East. Ian McGarvey eliminated. Result to follow…
21:37 (Quota 10,816) Fourth count Donegal South West. Of the transfers of the McBrearty and McCahill votes, Dinny McGinley took +1,300 to 10,587; Thomas Pringle took +1,775 to 9,139; Brian O Domhnaill took +488 to 5,724. Mary Coughlan has been eliminated and her 5,655 votes are being re-distributed. It appears that Pringle may be too far ahead of O Domhnaill.
21:36 Thomas Pringle is now favourite to take a seat in Donegal South West. Brian O Domhnaill fighting to take last seat for Fianna Fail. He said: "I haven't given up yet. This has been a very difficult campaign."
21:32 Mary Coughlan has lost her seat
21:05: Hello to Ciaran and John in New York. Thanks for the emails.
21:00 Result of fourth count in Donegal North East (MacLochlainn surplus). Blaney +10 to 1,327; Harte +18 to 4,319; McConalogue +21 to 6,816; McGarvey +10 to 1,409; McHugh +11 to 7,524; Ryan +13 to 4,884; Shiels +22 to 2,085.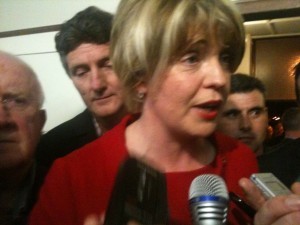 20:55 Dara Blaney eliminated in Donegal North East. His 1,327 votes being re-distributed now.
20:47 Anyone know what time the Glencar Inn is open until? Or Dom's Bar in Donegal Town?
20:40 This is exciting stuff folks….you wouldn't get craic like this in Biddys on a Saturday night! (England beat France 17-9 in the rugby, Man Utd beat Wigan 4-0 and Wolves duffed Blackpool 4-0) Back to the politics…exciting count in Donegal Town. Will Thomas Pringle edge out both Fianna Fail candidates. We will know in the next hour or so….in Letterkenny it looks like Charlie McConalogue is edging ahead of Jimmy Harte. Martin McGuinness has popped in to congratulate new TD MacLochlainn. Chinese didn't arrive….
20:30 Mary Coughlan talks to media at John Bosco centre and insists she will not give up a seat for Fianna Fail until the fourth count is over. She said she was very disappointed and insisted Fianna Fail would re-group and re-brand. She said she wished all those elected well.
20: 18 Results of the third count in Donegal South West (quota 10,816):
Mary Coughlan +87 to 5,259
Frank McBrearty +121 to 3,003
Stephen McCahill +104 to 2,141
Dinny McGinley +159 to 9,287
Brian O Domhnaill +89 to 5,236
Thomas Pringle +333 to 7,364
McCahill and McBrearty eliminated. Their 5,144 votes are being counted now. McGinley being tipped to take seat in this fourth count.
20:17 Thomas Pringle has bagged another 333 votes in third count. Frank McBrearty and Stephen McCahill have been eliminated.
20:13 It's all happening folks…back to Donegal South West for the results of the third count. Tanaiste Coughlan is watching on.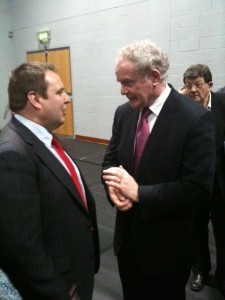 20:10 Padraig MacLochlainn tells donegaldaily.com: "We've had to wait a long time and Sinn Fein is now the biggest party in Donegal. The people of this county are tired of the old promises and we will hold the new Government to account. I want to dedicate this victory to two men; Eddie Fullerton, who was taken away from us 20 years ago, is a perfect example of what it is to be a republican. And my father Raymond who shone a light on the path. He always stood by the people of the Six Counties."
20:07 Third Donegal North East count:
Distribution of Betty Holmes' votes
Dara Blaney                        Ind     +68               1317
Jimmy Harte                      Lab      +139             4301
Padraig Mac Lochlainn   SF     +235              9585   ELECTED
Charlie Mc Conalogue     FF     +134               6795
Ian Mc Garvey                   Ind    +103               1399
Joe Mc Hugh                      FG      +145                 7513
John Ryan                          FG        +161               4871
Dessie Shiels                      Ind       +160              2063
Mac Lochlainn's surplus of 105 now being distributed
20:04 Padraig MacLochlainn is elected on third count and is new Donegal North East TD. (Full result to follow).
19:38 Thomas Pringle has taken more than one thousand of Pearse Doherty's surplus. Second count result in Donegal South West: (Quota 10,816)
Second Count
Distribution of Doherty surplus
McGinley D (FG) plus 539     9,128
Pringle T  (IND) plus 1,186     7031
Coughlan M (FF) plus 216     5,172
O'Domhnaill B (FF) plus 358    5,147
McBrearty F, (Lab) plus 673     2,882
McCahill S  (IND) plus 206      2,037
Duffy J (GP)  plus 141      668
Sweeney A (IND) plus 127  382
Sweeney and Duffy to be eliminated and their votes distributed
19:37 Mary Coughlan arrives at Donegal Town count centre. The Tanaiste is putting a brave face on – but she knows she's in trouble and may lose her seat. Director of election say she is being punished for the wrongs of the last government.
19:23 Donegal North East second count (quota 9,480)
Dara Blaney                        Ind     +21               1249
Jimmy Harte                      Lab      +72             4162
Betty Holmes                     Ind     +47                1197
Padraig Mac Lochlainn   SF     +72                 9350
Charlie Mc Conalogue     FF     +48                 6661
Ian Mc Garvey                   Ind    +9                    1296
Joe Mc Hugh                      FG      +38                  7368
John Ryan                          FG        +53                 4710
Dessie Shiels                      Ind       +27               1903
19:22 Mary Coughlan facing elimination in Donegal South West
18:33 Sinn Fein's Padraig MacLochlainn fell just 202 votes short of reaching the quota in the first count of the Donegal North East constituency. MacLochlainn polled a total of 9,278 first preference votes with outgoing Fine Gael TD Joe McHugh next in line with 7,330. Both men now look safe with a lot of water between them and the other candidates. The third seat will be between Finna Fail's Charlie McConalogue who got 6,61 first peference vote and Labour's JImmy Harte who got 4,090.
Fine Gael's second canddiate, Inishowen based John Ryan, did poll 4,657 first preference votes but he doesn't pick up as many transfers as either Harte of McConalogue.
18: 22 Donegal North East full result of first count: Dara Blaney Ind 122; Jimmy Harte Labour  4,090; Betty Holmes Ind 1,150; Padraig Mac Lochlainn SF 9,278; Charlie McConalogue FF 6,613; Ian Mc Garvey Ind 1,287; Joe Mc Hugh FG 7,330; Humphrey Murphy Green 206 ELIMINATED; John Ryan FG 4,657; Dessie Shiels Ind 1,876; Ryan Stewart Ind 203 ELIMINATED. The Stewart and Murphy votes are now being re-distributed. THE QUOTA IS 9,480.
18:20 Padraig MacLochlainn tops poll with 9,278 votes – full result to follow:
18:09 Donegal North East Latest: Time to order a Chinese; should be here in time for the result….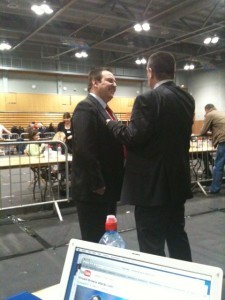 18:00 Donegal North East result soon. Favourite to take the first seat (on the second count) Sinn Fein's Padraig MacLochlainn talks to donegaldaily.com and says he is only the striker who has put the ball in the net for the Sinn Fein team in Donegal.
"I am the lucky person who gets to put the ball in the net for Sinn Fein in Donegal. But this is a team effort from Sinn Fein. These people around me have believed in me and put me through. I am overwhelmed by the scale of support I have received. We were close in the last election but we have done very well this time around," he said. But he said Sinn Fein are now only starting their work in Donegal. "During the last election there were 8,000 people unemployed. That has now risen to 22,000. We have a huge task ahead of us but we will not abandon the people and we will work to get Donegal and Ireland back on its feet," he said. He said Sinn Fein have set a target of 7 TDs but it looks like they will now have 10. "Sinn Fein will be the leadng opposition party and that's a lot of responsibility but we are up for it," he said.
17:49 Message for Pearse Doherty from 'all the Ballyshannon lads in Sydney' reads: "Maith thu Pearse."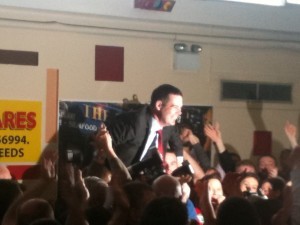 17:22: Doherty tells donegaldaily.com: "I am humbled and delighted at the same time. This is a vote for Sinn Fein and our policies and I will do everything for all the people of Donegal in the next Dail. And if there is anything which is unfair towards them I will fight with every fibre in my body for them." Asked would he be part of the Opposition front bench, he said he doubted Sinn Fein would be ahead of Fianna Fail. He said it wasn't a mistake not to run a second SF candidate, adding: "We are not greedy. And you can't expect or take anything for granted in politics." His transfers are now being re-distributed with former Sinn Fein man Thomas Pringle expected to take most of those.
17:16 At last: Pearse Doherty elected to Dail Eireann to cheers from Sinn Fein supporters.. The full result was as follows: Pearse Doherty, SF, 14,262. Dinny McGinley, FG, 8,589, Thomas Pringle Ind 5,845, Mary Coughlan, FF, 4,956, Brian O Domhnaill, FF, 4,789, Frank McBrearty, Labour, 2,209, Stephen McCahill, 1,831, John Duffy Green Party, 527, Ann Sweeney Ind 255.
17:00: Donegal South West report: DONEGAL South West faces a cliffhanger contest with just one seat secure and four candidates in contention for the remaining two seats. Tanaiste Mary Coughlan is facing the battle of her life to retain a seat in the constituency where she topped the poll last time around. And even more shockingly Fianna Fail was facing the real possibility of losing both seats in the constituency where it had commanded 50 per cent of the vote just four years ago. With a first count result expected before 6pm, the only certainty in Donegal SW is that Pearse Doherty will top the poll, exceed the quota and be the first to be elected. Transfers, particularly over 3,000 surplus from Doherty, will play a significant part in determining who will take the next seat. Party supporters are divided at the John Bosco Centre this afternoon, over how transfers will be distributed as candidates get eliminated in what promises to be a cliff hanger contest. If Doherty's transfers remain north of the Gweebarra , McGinley and O'Domhnaill will gain to the detriment of Coughlan and Pringle. But the independent councillor from Killybegs was also quietly confident that he would secure a large number of Doherty transfers, based on patterns of the November by election. "I'm expecting that Doherty will transfer heavily to me but it is going to be down to the later transfers to decide the seats," he said. Fianna Fail number cruncher, David Alcorn meanwhile insisted that the two Fianna Fail candidates had enough of a combined vote to outlast Pringle in the tense battle for seats. "I think Mary will get there in the end . I know the Fianna Fail vote is down but we did every thing that was humanly possibly. There shouldn't be any blame. We had a river against us," he said. Also nervously awaiting the outcome of transfers was Dinny McGinley whose vote was down by a critical four per cent leaving him in a precarious position. He lost many votes over his party's position on teaching Irish to Leaving Cert. Many Fine Gael insiders were quietly conceding that he was facing a difficult uphill climb but could get pick up enough to stay in the
race long enough to get through.
16:40 Hopes we'll get some sort of first count in the next hour in the Donegal constituencies….Harte and McConalogue teams still hoping for the final seat. (Hope they brought sandwiches with them; it's going to be a long night!!!!)
16:15: National Picture: Bookies paying out on Fine Gael/Labour coalition. Reports Sinn Fein president Gerry Adams plans opposition group which could make him leader of the Opposition, with Pearse Doherty opposition Finance Spokesperson. Fianna Fail could have as few as 14 seats with only Brian Lenihan returned in Dublin. Bored? Wales have beaten Italy 24-16 in the rugby. France v England to follow….
16:06 A big hello to Kevin in the Celtic nation of Cornwall who is enjoying our coverage and to Tony McGowan in Northern Thailand….sun shining here Tony as well…it's just about 7c though….about 30c less than what you're probably getting. Enjoy the heat!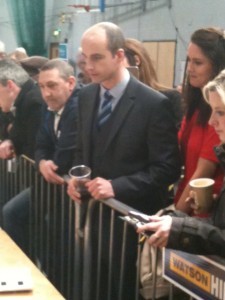 15:30 Controversy at the Aura Leisure Centre as independent candidate Dessie Shiels and his entourage are refused entry to count centre. Our man at the county witnessed a stand-off and tells us: "It appears they didn't bring their passes." Controversy now over after Mr Shiels is allowed in.
15:24 SO AS IT STANDS…Thomas Pringle camp believe Mary Coughlan has lost her seat in Donegal South West and he will be going head to head with Senator Brian O Domhnaill for the final seat. In Donegal North East, Fianna Fail believe they will take final seat…leaving Letterkenny without a TD.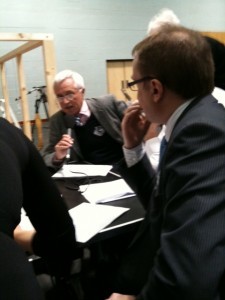 15: 22 Donegal North East: Outgoing Letterkenny TD Dr Jimmy McDaid has predicted that Charlie McConalogue has done enough to win a seat in Donegal North East. He admitted that the Fianna Fail vote had collapsed nationally. But he said he was very pleased with how the party had done in Donegal NE. "The Fianna Fail voters have come out and voted and that is what has given Charlie McConalogue such a strong footing on which to build. "We asked them to come out and they did and that has been the difference," he said. He added that there was no question the decision not to run a second candidate had stood to the party. "We simply would not have stood a chance in getting a seat if we had run two canddiates. As it stands I think Charlie McConalogue will get over the lne," he said.
15:16: Donegal South West: Parties overseeing spoiled votes. John Campbell, director of elections for Thomas Pringle, says he is delighted with the showing. "It's going to go right down to the wire. It will be a fight between Thomas and Brian O'Domhnaill for the final seat. I would be 95% sure Mary (Coughlan) will lose her seat."
14:50 Patrick in Ballybofey tells us: "Great to see all the updates and pictures live online. Any chance of donegaldaily standing next time?"
14:30 Just got an email from Michael in Ballyshannon…"brilliant coverage". Go raibh maith agat Micheal! And this from Maire in Fanad…"Glad to see Charlie (McConalogue) doing well for Fianna Fail. Praying he makes it."
14:20 National Picture: With most of the ballot boxes now opened, it is clear that Fine Gael and Labour are making major gains. Fianna Fáil are suffering huge losses with several ministers struggling to keep their seats. Fine Gael expect to get between 70 and 76 seats, with perhaps four out of five in the Mayo constituency of Enda Kenny. Labour are hoping for at least 30 seats and look set to be the biggest party in Dublin. Fianna Fáil may get under 20 seats and many constituencies will have no Fianna Fáil deputy for the first time since the early days of the State. Ministers are in danger of losing their seats include Mary Coughlan, Mary Hanafin, Conor Lenihan and Sean Haughey, the latter possibly ending a family association to Dail Eireann going back to 1927. However Brian Lenihan may keep his seat. Sinn Féin are confident of taking 10 seats and Gerry Adams polled well in Louth, while Mary Lou McDonald is performing well in Dublin Central. The Green Party leader John Gormley has lost his seat, according to the tallymen Among the United Left Alliance candidates doing well are Joe Higgins, Clare Daly and Richard Boyd Barrett. The Independent Shane Ross will top the poll in Dublin South.
13:55 Thanks to all for lunch at the Blueberry Cafe. Here's the tally estimated for Donegal South West: .Pearse Doherty SF, 14,249 (33%), Dinny McGinley FG, 8484 (19.69%), Thomas Pringle Indpendent, 5804 (13.47%), Mary Coughlan FF 5009 (11.63%) Brian O'Domhnaill FF, 4755 (11.83%), Frank Mc Brearty Labour, 2176 (5.4%), Stephen Mc Cahill   Ind 1812 (4.21%), John Duffy   Green 535 (1.24%) Ann Sweeney   Independent  255 (0.5%)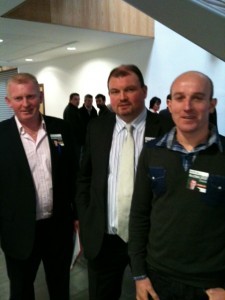 13:48 (And we're back from the QM) There was a battle brewing this afternoon for the third and final seat in Donegal North East between Labour's Jimmy Harte and Fianna Fail's Charlie McConalogue. The first full tally showed that both Sinn Fein's Padraig MacLochlainn (25%) and sitting Fine Gael TD Joe McHugh (19%) were looking safe for the first two seats. The turn-out for the country's most northerly constituency showed a turn-out of just over 65% – down from the 68% which turned out or the last election in 2007. The estimated quota for election was 9,500 votes with leader Padraig MacLochalinn going close but perhaps unlikely to reach the quota on the first count.
MacLochlainn, who went very close to being elected in the last election, said he was very pleased with how things have gone. "It is early days yet but we are very happy with what we are seeing in the tally. The people of Donegal have spoken and they have voted for change.
"I am very pleased with things. We probably won't have a definite result for a while but things certainly look good for us at the moment," he said.  First time candidate John Ryan from Fine Gael polled very well in his native Inishowen but looks unlikely to poll as well outside of there. Some Independents including Letterkenny-based solicitor Dessie Shiels who took 5% of the vote from tally figures. Dara Blaney, who stood after his first cousin Niall Blaney TD pulled out of the race, failed to make any major impact as expected with just 3% of the early tally. Tally to date Padraig Mac Lochlainn SF, 9337 (25%), Joe Mc Hugh   FG, 7221 (19.13%) Charlie Mc Conalogue FF  6567 (17.4%)John Ryan  FG 4578  (12.13%) Jimmy Harte Lab 4083 (10.8%) Dessie Shiels Ind  1870 (4.96%), Ian McGarvey   Ind  1332 (3.5%), Dara Blaney Ind 1210 (5%) Betty Holmes Ind 1133 (3%), Ryan Stewart Ind 207 (1%) Humphrey Murphy Green Party  201 (1%)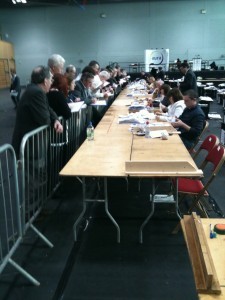 12:30: Donegal NE Report: Early tallies in the Donegal North East constituency suggest that both
Sinn Fein's Padraig MacLochlainn and Fine Gael's sitting TD Joe McHugh will be elected. With almost all of the 60 boxes in the Inishowen area opened it now looks like both are polling very well. Fine Gael's other canddiate John Ryan, who is based in Inishowen, is also polling well but his vote in unlikley to rtavel outside of the Inishowen Peninsula. Also polling well is as expected in Inishowen is Fianna Fail's Charlie McConalogue who will battle it out for the third seat with Labour's
Jimmy Harte. Harte is expected to poll very well in the Letterkenny area where he lives. A lot depends on the tranfers of the other eliminated candidates when they come in. A first count is expected at the Aura Leisure Centre in Letterkenny at around 3pm. But a long night and a number of counts are expected before we can separate Fianna Fail's McConalogue and Labour's Harte
for that vital last seat. (Time to head to the Quiet Moment for a toastie!…Blueberry Cafe in Donegal Town is our favourite destination in DSW)
11:29: Latest tallies in Donegal South West: Pearse Doherty (SF) 8,433, Dinny McGinley (5,657), Thomas Pringle (5,191), Mary Coughlan (3,844) Brian O'Domhnaill (3,341). So far in per centage terms that's Doherty on 29%, McGinley on 19%, Pringle on 18%, Coughlan on 13% and O'Domhnaill on 11%. Looks like the two candidate strategy for Fianna Fail might backfire. The Pringle/Coughlan story could be making national headlines in the wee small hours. These figures are based on tallies and not official figures, so an element of caution needed.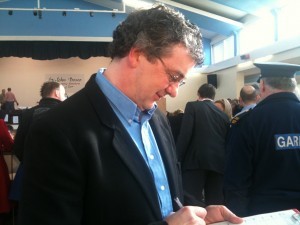 11:14: THE Tanaiste, Mary Coughlan will be fighting for the last seat in a constituency where Fianna Fail had 50 per cent of the total vote just four years ago. Early boxes opened for the Donegal South West constituency in Donegal Town this morning,  are indicating that Mary Coughlan's vote has taken a nose dive. With Sinn Fein and Fine Gael on course to secure two seats, dark horse
Independent candidate, Thomas Pringle was soaring ahead with 29 per cent of the vote with one third of the boxes open. Boxes around the Donegal Town, Ballyshannon and Bundoran areas show
the Fianna Fail vote lagging behind both Fine Gael and Sinn Fein with Sinn Fein likely to end up a higher result than in the by-election. Polling strongly is Killybegs-based Independent candidate,  Thomas Pringle who may end up being one of the surprise victors of the election. A further blow for the Tanaiste, is the poor performance of her running mate, Brian O'Domhnaill, who was polling below ten per cent and not enough to get her across the finish line. In a single box in Dunkineely, eight kilometres from the Tanaiste's home base, independent candidate Thomas Pringle polled 143 votes, with the Tanaiste netting just 66. In a box in Coughlan's own constituency of Frosses, her vote at 147
was just 30 ahead of Pringle. After 14 boxes had been opened, Sinn Fein was on 27 per cent of the
vote, Fine Gael were on 24 per cent of the vote and Fianna Fail was coming in a poor third at 22 per cent. The combined vote of the three Independent candidates Thomas Pringle, Stephen McCahill and Ann Sweeney. was at 21 per cent, the bulk of which were going to Pringle. Speaking at the centre, a delighted Thomas Pringle, a father of three, said that based on the early figures he could even be second to be elected. "It is beyond our expectations but based on these figures we are in
the running for the third seat and maybe even better than that," he said. Sinn Fein's Pearse Doherty, said it would be a "major challenge" for the Tanaiste to retain her seat. "It is going to be a very different scenario from four years ago when she topped the poll and Pat the Cope Gallagher came second," he said.
11:00 Donegal North East Update: 58 Inishowen boxes opened. 12 Letterkenny boxes opened Padraig MacLochlainn with 5,400 first preferences so far. Sinn Fein very very happy. Fine Gael's John Ryan has 4,700 votes and is the big big surprise. The party is over the moon. But Fianna Fail are also very happy as Charlie McConalogue doing very well with 4,834 of the Inishowen vote. Jimmy Hart has 1,602 but mostly in Inishowen. Letterkenny vote will be crucial. Betty Holmes is the only independent polling above 1%.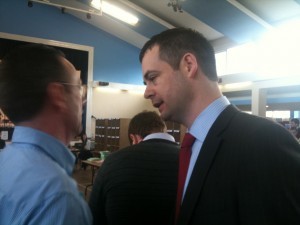 10:46: Sixty boxes are being opened from Inishowen. 53 boxes from Letterkenny/Milford will be opened once the Inishowen process is over. Not too many candidates around the Aura. It appears colleagues in the South West win the 'early bird' contest. Comment from 'Gaoth Dobhair Abu'…'Voted for Pearse (Doherty) but hope Labour get in nationally and try to stop Fine Gael's Irish language policy'. More comments welcome!
10:10 Some news from the Aura: South Inishowen boxes opened in Letterkenny and Sinn Fein appear to be topping the poll. But just 23 boxes opened so far. Padraig MacLochlainn on around 30%, but Charlie McConalogue seems happy with 27%.
09:48 Breaking news in Donegal Town: Tanaiste in Trouble? EARLY boxes opened in Donegal SW,  are indicating that Mary Coughlan's vote has taken a nose dive. Boxes around the Donegal Town, Ballyshannon and Bundoran areas show the Fianna Fail vote lagging behind both Fine Gael and Sinn Fein with Sinn Fein likely to produce a higher result than in the by election. Also polling strongly is Independent candidate,  Thomas Pringle. After 14 boxes, Sinn Fein was on 27 per cent of the vote, Fine Gael were on 24 per cent of the vote and Fianna Fail was coming in a poor third at 22 per cent. The combined vote of the three Independent candidates Thomas Pringle, Stephen McCahill and Ann Sweeney was at 21 per cent, the bulk of which were going to Thomas Pringle while Labour was coming in at two per cent.
09:21: All the talk in both count centres is around the RTE Exit Poll. In Letterkenny, the news is greeted with cautious optimism among supporters of Jimmy Harte, the Labour Party candidate. If the exit poll is accurate (and it was in 2007) then we could be heading for a Fine Gael/Labour coalition. In Donegal town, there is disbelief among Fianna Fail with the Exit Poll putting the party in third place….but will they get 3rd place in Donegal South West later??? (email us on info@donegaldaily.com)
09:00: A lot of excitement at Letterkenny's Aura leisure centre and at the John Bosco Centre in Donegal town as the count gets underway.
 08.40 RTE EXIT POLL: RTE's Exit Poll has been released predicting Fine Gael will be some way short of an overall majority with around 72 seats.
Good news for Labour perhaps – but a disaster for Fianna Fail who are predicted to have just 15% of the vote.  The poll predicts that Fine Gael will get 36.1% – Labour is in second place on 20.5% – Fianna Fáil support is put at just 15.1%, by far its worst ever General Election result – Sinn Féin support is put at 10.1%, a record high, while the Greens are on 2.7%, which could see the party save some seats. Independents and Others get the support of 15.5% – a very high figure, though it may be spread quite thinly given the number of candidates, and where those votes transfer could be crucial to the final outcome – here in Donegal as well as everywhere else.
08.30 GOOD MORNING and welcome to what promises to be a long day as counting gets under way in Donegal's two constituencies in 30 minutes time. We have reporters at the Don Bosco Centre in Donegal Town at the Donegal South West count and at the Aura Leisure Centre in Letterkenny for the Donegal North East count. We welcome contributions from you throughout the day on info@donegaldaily.com (jokes allowed!) We'll start by saying hello to Sean in San Francisco and Ciaran in Hong Kong who have already emailed to say they'll be joining us for the count. We'll be keeping an eye on the national picture as well so we can't be accused of being the independent republic of Donegal! In a few hours we'll know who'll be running the country – or as one comedian in Creeslough who emailed us earlier put it – which set of politicians will be 're-arranging the deck chairs on the Titanic!' We'll have all the results as they come in…and all the drama. RTE's Exit Poll coming shortly….