DONEGALDAILY IS ALWAYS FIRST WITH THE BIG STORIES: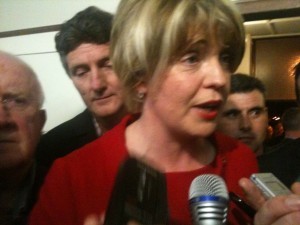 TANAISTE MARY Coughlan was the shock casualty in the general election in Donegal – as Fianna Fail lost out in Donegal South West. (The day as it happened is on our Election News Ticker).
Sinn Fein's Pearse Doherty topped the poll in the constituency – and Dinny McGinley followed. But the surprise was independent Thomas Pringle taking the third seat…beating Ms Coughlan and running mate Brian O Domhnaill to the final seat.
The decision to run two candidates in the constituency proved disastrous and a devastated McCoughlan left the count before she was finally eliminated.
And there was massive controversy in Donegal North East where Sinn Fein's Padraig MacLochlainn was the first new TD to be elected. It was close to midnight before he was joined by Fine Gael's Joe McHugh.
The final seat went to Fianna Fail's Charlie McConalogue.
But Jimmy Harte from Labour was furious – convinced he was robbed of a seat by a dirty tricks campaign by pro-Lifers in the days before the vote.
"Letterkenny is the loser," said Harte. "Our campaign was well on track until pro-Lifers handed out leaflets saying that a vote for me was a vote for abortion. That was despicable."
WHAT THEY SAID:
DONEGAL NORTH EAST:
Padraig MacLochlainn: "We've had to wait a long time and Sinn Fein is now the biggest party in Donegal. The people of this county are tired of the old promises and we will hold the new Government to account. I want to dedicate this victory to two men; Eddie Fullerton, who was taken away from us 20 years ago, is a perfect example of what it is to be a republican. And my father Raymond who shone a light on the path. He always stood by the people of the Six Counties."
Joe McHugh: "I want to pay tribute to John Ryan for all his hard work and I want to commend him and his family as well as Fine Gael. There is a lot of hard work ahead. We have to pull together as a community and I want to work with the TDs in this county as well as with the business sector…I am delighted to be part of the biggest party in Donegal North East."
Charlie McConalogue: "I am absolutely delighted. It was a very difficult day especially for Fianna Fail nationally." He paid tribute to Jimmy Harte and John Ryan and added: "We all worked together in Donegal North East and I am delighted we did. We have started to re-energise the party and that is the re-building we need to do throughout the country."
DONEGAL SOUTH WEST:
Pearse Doherty: "I am humbled and delighted at the same time. This is a vote for Sinn Fein and our policies and I will do everything for all the people of Donegal in the next Dail. And if there is anything which is unfair towards them I will fight with every fibre in my body for them." Asked would he be part of the Opposition front bench, he said he doubted Sinn Fein would be ahead of Fianna Fail. He said it wasn't a mistake not to run a second SF candidate, adding: "We are not greedy. And you can't expect or take anything for granted in politics."
Dinny McGinley: "I am proud to once again serve the people of Donegal in Dail Eireann. This is not a night for big political speeches, but I do want to pay tribute to everyone in the Fine Gael team who worked so hard for me over many years. I will serve everyone in every community in the next Dail."
Thomas Pringle: "It will take a while to get used to. I want to thank everyone who voted for me. I am humbled but I will be keeping my direct link with all the communities in the constituency. This is the start of a process of change and I want to make sure the weaker members of our society are looked after."
You can read it all over again as it happened on our Live Election Ticker…..
Stay with donegaldaily.com – first with the news and the pictures from throughout the county.