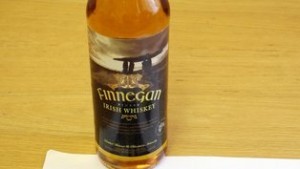 THIEVES ARE enjoying a post-election tipple…after making off with a huge consignment of whiskey part-owned by Donegal businessman Willie McCarter.
Whiskey-loving criminals have made off with a €270,000 consignment of whiskey from a distillery co-owned by the Buncrana man.
The consignment of Finnegan Whiskey was stolen from Cooley Distillery, Carlingford, Co Louth.
The specialist distillery is part-owned by businessman, Willie McCarter from Buncrana. Cooley also makes the 'Inishowen' whiskey brand.
"Finnegan Whiskey is not available on the Irish market. The label on the front of the bottle is in the Irish language while the label on the rear is in the French language (expect the actual words Finnegan Finest Irish Whiskey).
Each front label consists of a picture of a Neolithic stone figure," said a garda spokesperson.
The stolen bottles were all 70cl and were stocked in brown cardboard boxes labelled 'Finnegan Irish Whiskey' and the words 'Uisce Beatha'.
Anyone with information or any person who has been offered this product for sale is requested to contact the Gardaí at Carlingford 042- 9373102, the Garda Confidential Line 1-800-666-111 or any Garda Station.