SHE may have been a loser in the election but outgoing Tanaiste Mary Coughlan is a winner in the money stakes.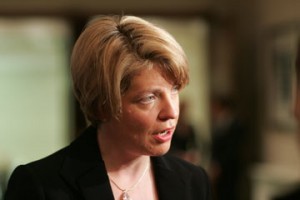 An investigation into the the Frosses woman's entitlements shows she will walk away with a massive financial package including a huge pension after her 24 years in the Dail.
In just five years time Coughlan, 45, will be able to pick up an incredible combined Ministerial and TD's pension of €103,524 a year – for the rest of her life.
But that's not the end of the gravy train for the former Agriculture and Education Minister.
She will also get a TAX-FREE pension lump sum of €147,636.
And under the termination of her Government status, the Fianna Fail politician will also get another €78,000 in various payments over the next year.
 Combined that's a total pay-off of more than €225,000 and an annual pension from the age of 50 of €104 per year.
Ends