JIMMY HARTE has sensationally accused Fianna Fail of being behind a church gate leaflet campaign which claimed he was in favour of abortion.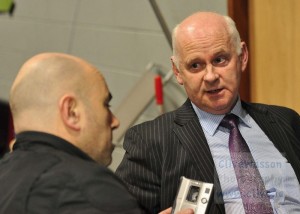 The Letterkenny Labour Party candidate, who was beaten for the third seat in Donegal North East by FF's Charlie McConalogue, described the move as "despicable."
And he also attacked the church for allowing the Pro Life organisation to hand out the leaflets outside churches across Co Donegal over the past couple of weeks.
Harte had been tipped to take the third seat in Donegal but said a dirty tricks campaign by his direct opponents scuppered those chances.
"This was the lowest of the low and I have no doubt that Fianna Fail had a hand in it. These people who call themselves Pro Life are nothing of the sort. How can they call themselves Christian?
"I came out of the church and I was handed a leaflet to say that the Labour was for abortion. If I am the Labour candidate then I consider that was a direct accusation against me.
"This was a despicable attempt to turn people against voting for me and the lowest of the low in my opinion. These so call pro life people are certainly not Christian in my book," he fumed.
And the father of four also pointed the finger of blame in the direction of the church for allowing people to hand out such leaflets at church gates during an election.
"The church simply should not have got involve din this and they should not have allowed their parishioners to be opened up to this kind of propaganda.
"This is the same church who did nothing to protect hundreds of young boys and girls in their care for years and then cover it up. They should examine their conscience also," he fumed.
He added that he was anything but for abortion and that his father, the former Fine Gael TD Paddy Harte, had always been against abortion despite the different views of his party.
Speaking at the Aura Leisure Centre the well-known businessman said he would now take time to gather his thoughts and decide about his future.
He said he had not heard from the Labour Party but that he was delighted he had increased his vote by almost ten fold since the last election.
"I am very proud of what I achieved but it just wasn't enough but I still think certain factors conspired against me.
"I am going to spend some time with my family now because I have been away from them for the best part of two months on the campaign trail.
"I could not have done as well as I did without them and I want to thank them for that," he said.
Ends