A young Newtowncunningham schoolteacher who taught at a school attended by Colonel Gaddafi's grandchildren has been forced to flee Libya.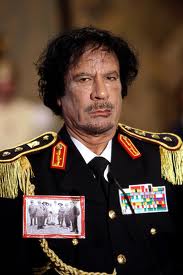 Liam Grant worked at the elite International School of Martyrs in the capital Tripoli where he taught PE.
The school, which was founded by Waterford man Brendan Coffee in 1958, teaches the Leaving Cert curriculum to the children of many of the country's most wealthy people.
Liam, 24, has just arrived home safe after being forced to flee the country amidst the current uprising against the dictator during which more than 1,000 have been killed.
The well-known soccer and GAA player admitted he had enjoyed his time in Libya but decided it was safer to stay out of it.
Liam, from Moneymore, was one of sixteen Irish teachers at the school who were forced to flee.
"Nine of us had headed to Malta for a friend's birthday but when we saw what was happening during the protests, we decided not to go back. We had actually bought return tickets we didn't have Exit Visas so we were afraid of being stuck there.
"In the end we decided not to go back and I think that was the right decision.
"A couple of the lads did go back but they soon had to get out. All sixteen of us are back home in Ireland now and thankfully everyone is alright," he said.
Liam only began teaching at the school last September after answering a website advert.
A BA graduate from NUI Galway, Liam said Gaddafi's grandchildren were very well-behaved and never played up on the fact that they were his relatives.
"They were very good students and very well-behaved. They never played up on the fact that they were Gaddafi's grandchildren.
"But you would never have failed them but in fairness, they never deserved to be failed.
"They were good students and there was never any issues about that," he said.
He also revealed he was forced to leave behind a suitcase full of clothing and other personal belongings.
"That's the least of my worries. But I will be tuning into the television to see if anyone is rioting down in Screen Square wearing a Donegal jersey," he laughed.
The 24 year old said he enjoyed life in Tripoli and didn't hesitate about heading there when the opportunity came his way.
"I love to travel anyway. There was no trouble there when I left Ireland for there in September and I had a great time there.
"We had no problems there. I never felt like we were being watched although some of the lads did think that.
"I just got on with it and had a really good time. But we knew it was time to get out when the protests started to get heavy," he said.  
Liam, who played for Fanad United, Letterkenny Rovers and Galway United, said he was very concerned that his parents, Mary and Sean, knew he was alright.
"We didn't realise how bad things looked but when there was a virtual news blackout I knew my parents and friends back home would be very concerned.
"I'm just glad we're back home and everyone got home in one piece. I think it is obviously going to get worse out there," he said.
He added that he will trying to get a bit of substitute teaching work back home for a while but plans to head abroad again.
"I might just pass on Libya for the moment though," he laughed.
Ends