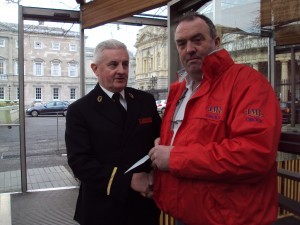 THE new Donegal-based tuckers lobby group is calling for a meeting with the new Ministers of Transport and Finance to thrash out a number of issues affecting the haulage industry.
The group, known as the JML Diesel Protest, held a truck protest recently in Letterkenny before organising a rolling protest from Donegal, through Sligo along the N4 to Dublin, before handing in a petition at the Dail.
The group is calling on the incoming government to scrap the carbon tax element in the cost of fuel for tax compliant licensed hauliers. It also wants a further minimum 10% rebate on diesel used by tax compliant licensed hauliers.
John McLaughlin took time out from attending a wedding to visit the Donegal North East election count at the Aura Leisure Centre in Letterkenny on Saturday.
He says it wants the government to review the method used to calculate the road tax imposed on commercial vehicles. It also wants a complete review of the current licensing regime.
He is also looking for a meeting with the Road Safety Authority to discuss a variety of transport legislation, which the group says is having a detrimental and increasingly expensive effect on the haulage industry.
Finally, the group wants to meet with the National Roads Authority to discuss multiple issues, which it claims negatively affect the haulage industry, such as tolls, rest areas, and most recently the NRA"s response to the "big freeze".
Said John: "I went to the count because it was a good opportunity to meet all the political parties and put across our views. Donegal is particularly affected by all the extra taxes we have been forced to pay."
You can find put more about the lobby group on Facebook by clicking on the following link: http://www.facebook.com/pages/JML-Diesel-Protest/189413041090515