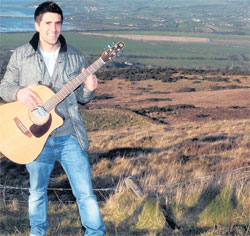 Traditional Irish set dancing group Cosa Beoga, representing the West, are the 11/4 favourites with Paddy Power to win this year's 'All Ireland Talent Show'……
But Burt's Brian Sheerin is a close second favourite – and the people of Donegal have a chance to help him win….and make a few quid at the bookies!
The group from Abbeyknockmoy, Co. Galway, stole the show in week five despite receiving criticism from fellow judge Amanda Brunker.
If Cosa Beoga are successful in being crowned this year's winners it will be the second year judge Daithi has mentored a winning act.
Kerry man and 'Daily Show' host Daithi mentored the Mulkerrin Brothers to victory in Series 1 in 2009.
Sharon McHugh, spokesperson for Paddy Power said: "Amanda might be bored of traditional Irish acts but the public it seems are not. There's been plenty of support for Cosa Beoga in the betting proving that old Irish dancing is alive and well."
Donegal singer Daniel O'Donnell also likes the Galway group – and our own Brian.
He said: "I hope that Brian goes all the way because I really do feel he's going to be a big star and it was lovely to hear his Donegal accent coming through in his singing.
"The standard on this year's show really is tremendous and there is great variety. I was also very impressed by Irish dancing troupe Cosa Beoga from the West.
"I thought they were fantastic and it's great to see young people keeping our traditions alive."
Brian Sheerin is at 7/2, young soprano Daniel Furlong at 6/1 and Daithi's Sean Nos ar an tSionnan at 7/1.
Winning Region
5/4 West (Daithi O'Se)
5/2 North (Dana)
3/1 South (John Creedon)
8/1 East (Blathnaid Ni Chofaigh)
8/1 Dublin (Amanda Brunker)
All Ireland Talent Show – Outright Winner
11/4 Cosa Beaga (West)
7/2 Brian Sheerin (North)
6/1 Daniel Furlong (East)
7/1 Sean Nos ar an tSionnan (West)
8/1 Shauna Buckingham (Dublin)
9/1 Don Stiffe (West)
9/1 Fitzy Chicks (South)
10/1 2 Day Nation (South)
10/1 Politically Correct (West)
14/1 Mad 4 Road (South)