COUNCILLOR Frank McBrearty caused uproar after accusing fellow councillors of boozing during the lunch-break of the monthly Donegal County Council meeting and demanded that they be breathalysed.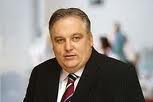 The Raphoe politician made the claims during a heated debate on the state of the Finn Valley's roads.
The Labour Party Cllr said the Finn Valley's roads needed a serious cash injection in a bid to upgrade them.
However the debate quickly escalated into a full-blown argument after Cllr McBrearty accused County Manager Seamus Neely and his staff of providing 'pathetic' answers to councillor's queries.
He also accused the county manager and his staff of fudging the answers.
Mr Neely dismissed the claims and said his staff work long and hard hours for the sake of the county.
Cllr McBrearty caused further controversy when he suggested that Donegal County Council should be brought to court if there was an accident in the Finn Valley area.
Cllr Ciaran Brogan said the meeting should be adjourned to seek legal advice to ascertain what impact Cllr McBrearty's comments would have if a legal case did arise.
The meeting was adjourned but when it resumed, Cllr McBrearty again made the comments about councillors taking a breathalyser.
Cllr Brogan offered to take such a breath test but his offer was not accepted.  
One eye witness said it looked at one stage like the entire meeting was going to spiral out of control.
"To say it got heated would be an understatement. I thought they were going to need boxing gloves at one stage.
"It has been a long weekend on the political scene but there was no shortage of passion in the chamber," he said.
Earlier Cllr McBrearty had been accused of being a bully by Lord Mayor Cora Harvey after he had clashed with her.
Ends