OUTSPOKEN councillor Frank McBrearty has stood over his claims that fellow councillors were boozing during the day long meeting of Donegal County Council.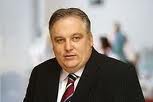 The Raphoe politician caused uproar when he suggested that some councillors needed to be breathalysed after they returned from their lunch.
But last night Cllr McBrearty told donegaldaily.com that while he thought the issue was a sideshow to the real council issues, he nonetheless stood over the allegations.
"I have been in the pub trade for 30 years and I know when someone has taken a drink. I have no problem standing over that claim.
"I know for a fact that five councillors were drinking at lunchtime but I didn't intend to make a big deal out of that. I just said it as a throwaway remark.
"That was not the real issue but it seemed to be the only issue that got attention with the media," he said.
The Labour Party councillor said the real issue he wanted to raise was about the lack of money and attention being given to the roads in the Finn Valley.
He said that was the real issue on all doorsteps during the recent general election.
However in a debate on the issue at Monday's meeting of the council Cllr McBrearty suggested that not enough was being done by the county manager Seamus Neely and his team to address the problem.
Manager Neely replied that his staff were working around the clock to address all problems within Donegal to the best of their ability.
Cllr McBrearty said he did not have an issue with the council staff on the ground but his issue was with Mr.Neely.
"I have never had a problem with staff on the ground and they know that and will tell you that. My problem is with management and how they continue to fudge the issue of roads in the Finn Valley.
"The roads are a complete disgrace and nobody wants to seem to take responsibility for them," he said.
The Raphoe councillor said he will continue to stand his ground for the people of Finn Valley and doesn't care how he is perceived.
"I know my rights and what I am entitled to say with council chambers. And I will continue to stand up for the people of the Finn Valley.
"The only people I owe anything to are the people who elected me and I will continue to do that as long as I am in the council," he said.
Ends