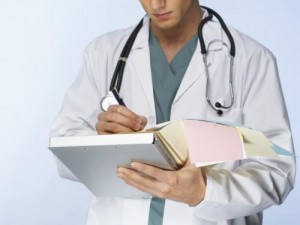 A TOP MEDIC at Letterkenny General Hospital has gone public on the crisis facing doctors, claiming he does 90-hour weeks because the health service is out-of-step and too unionised.
Dr John-Paul Kennedy lashed out in a strongly-worded letter to this week's edition of the Irish Medical Times.
In it he talks of the frustration of doing his job – but said non-consultant hosptial doctors like him are leaving in droves to work for less money in Australia so that can develop their careers.
Responding to a previous news item in the medical publication, he writes: "I would like to point out that NCHDs(Non consultant hospital doctors) are still being forced to do 90 hours per week in many hospitals around the country.
"In my own hospital in Letterkenny General we are still regularly rostered to do two 28-hour and one 24-hour shifts in a six-day period in obstetrics and gynaecology due to a shortage of one SHO(Senior house officer), which is thankfully being resolved after almost two months of discomfort and severe stress.
"The European Working Time Directive has been quietly ignored in most specialities because we cannot obtain enough NCHDs to complete our staff.
How do we expect our hospitals to work well if the doctors who work there on the frontline day and night treating patients are overtired and over-stressed and disillusioned by illegal rosters such as this?"
Dr Kennedy went on: "Most NCHDs know dozens of colleagues who have left for Australia in the hope of finding a place where they can focus on being doctors, continuous professional development and on training in a work environment where you know that you will be paid properly (albeit less) for the hours you work and where you can have some 'work-life balance'.
The doctor goes on to make a number of other comments.
He goes on: "In Letterkenny General Hospital, there is an official policy which states that doctors or nurses can give the first dose of a medication, but the unofficial policy that only the doctor can give the first dose prevails in the general wards.
"This is in spite of the fact that there is no evidence to support the outmoded practice of forcing the doctor to take on all first-dosing, as allergic reactions are as likely to happen on the second or subsequent doses.
"NCHDs have been complaining about this for years, as it adds to their workload on night shift and forces them to go sleepless.
"What is the barrier to having this policy changed in my hospital when there are other hospitals around the country that have changed this already?
"I can gain no coherent answer from the 'powers that be' (indeed, it is difficult to find anyone who will admit that they are responsible for perpetuating this farcical situation in Letterkenny General Hospital).
 "I find this phrase telling, as it implies that we NCHDs are akin to a type of small donkey that can be loaded with bric-a-brac and mundane tasks…Certainly, we are doing the donkey work when on call.
"So we drift along with an outmoded and unscientific and irrational policy, which adds greatly to NCHDs' stress, while costing them time and taking away from treating patients (I have often had to leave the Emergency room while on medical call to go and perform these tasks around the hospitals while nurses on the wards told me that their hands were tied due to this irrational policy)."
Dr Kennedy calls for proper reform and continues: "If nurses could share this work, it would be a simple cost-neutral reform in the healthcare system to retain NCHDs. This stupidity is a major source of frustration for nearly every NCHD I know.
"Imagine that you have been working without a stop to go to the toilet for a solid 11 hours in the middle of a 28-hour shift. You finally make it back to the res at 7am, where you lie on your bed, only to hear the bleep go off.
"It's a nurse asking for your expertise in mixing up and giving a first dose of IV(Intravenous) medication. You feel your feet throbbing and your head pounding.
"A second bleep comes and you are informed that three patients who are going for C-sections need first-dose of IV Ranitidine and the only person in the entire building who can do that job is you.
"It is no harder to give the first dose than it is to give the second, after all. Why do we need to be pulling our hair out about this for a minute longer?
Liam Doran, INMO(Irish Nurses and Midwives Organisation) General Secretary, stated in The Sunday Business Poston October 10, 2010 that, in relation to first doses of IV(Intra venous) meds and cannulation:
"Of course all nurses should be doing that, but we have a fixation on a medical model of care. The doctor initiates everything. Therefore, we have an undue reliance on doctors, and under-utilise other health professionals." (See http://www.thepost.ie/newsfeatures/on-the-hunt-for-real-reform-52159.html) So who is blocking the reform then? Why can't it be brought in tomorrow?
"These issues are indicative of the malaise and inertia that infects hospital management around the country….and the heavy hand of the unions stacked against reform.
"IV cannulation and phlebotomy are similarly counted as the sole preserve of the doctor when on-call. Nurses at ward level are often trained or want to pursue training in these tasks, as it would be more efficient to share these tasks with doctors.
"But the powers-that-be deem it to be beyond the scope of nursing practice. Therefore, the doctor on-call has the sole responsibility of placing and replacing all cannulas and taking all blood tests on the general wards. Apparently, there is no other country in Europe where nurses are not allowed to do these tasks.
"Imagine a healthcare system where doctors on-call in hospitals did not have to run from ward to ward, spending half of their time doing these tasks and being delayed from attending to patients as a result of their ever-expanding list of first-dosing, cannulation and phlebotomy.
"I should also point out that the rate of errors in blood test labelling drops to almost zero amongst blood tests taken by nurses, whereas it climbs unacceptably when it is one of a few dozen tasks that a doctor on-call must achieve in the next hour.
"Errors in blood-test labelling can lead directly to patient death in the case of transfusions. So, here is another simple reform that can improve patient safety and reduce NCHD stress and tiredness.
"Can we expect the IMO (Irish Medical Organsation) to work with the next Minister for Health to implement such simple reforms in all Irish hospitals, or will the IMO merely be "happy" to accept that the NCHDs who currently fund them will throw up their hands in exasperation and emigrate?
"When NCHD retention is discussed by 'the elders' in the print and online media, one often sees the phrase 'carrot-and-stick'. I find this phrase telling, as it implies that we NCHDs are akin to a type of small donkey that can be loaded with bric-a-brac and mundane tasks (that other nobler and more specialised animals would refuse to do or be unsuited for) until he lies down and starts braying in indignation. Certainly, we are doing donkey work when on-call.
"I believe most NCHDs would settle for a little less stick (less onerous conditions and hours) and accept that the carrots (remuneration) are not going to be as plentiful as before in this bankrupt country.
"However, deterioration in pay, training and working conditions for NCHDs will leave the Irish system populated largely by unwitting mercenaries from countries who have not yet gotten word of the return of the bankrupt Banana Republic. The IMO should remember that mercenaries don't tend to spend their money on unions."
* Do you have a story. Email in confidence to info@donegaldaily.com.
donegaldaily.com – first with all the BIG local stories!