A Garda expert has revealed that it took months of hand-braking to cause the damage to the wheels of a car which triggered the death of a young mum and her baby daughter.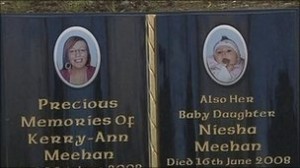 Kerry-Anne Meehan, just 16, and her 3 month old baby daughter Neisha, were killed outside Letterkenny when they car in which they were passengers spun out of control and struck an oncoming jeep.
The car was being driven by Kerry Anne's boyfriend and Neisha's dad Christopher Hanlon, 19.
Their inquest has heard how a blow-out to Hanlon's Toyota Corolla forced him to lose control and hit a jeep which was towing a trailer with 30 sheep at Tullygay, Letterkenny on June 16th, 2008.  
The young mother, who was originally from Derry but who had moved in with Hanlon to a flat in Mountcharles, was pronounced dead at the scene.
However emergency crews who rushed to the scene only realised there was a baby in the wrecked car when they saw blankets and a baby's bottle in the rear of the car.
Little Neisha was found beneath the front passenger seat and despite the best efforts of ambulance crew was pronounced dead on arrival at the Accident and Emergency unit of Letterkenny General Hospital.
Garda PSV Inspector, Sgt John McDaid told the inquest that the rear tyres of the car being driven by Hanlon, had been "excessively worn" in patches and had all the hallmarks of "doing doughnuts".
He revealed the tyre that had blown out was defective in pre-accident condition.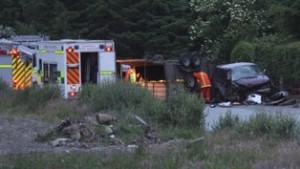 "A section of thread was damaged and scuffed off, damaged to such an extent that the driver would have to have been aware of its condition.
"The damage would be consistent with excessive use of the hand brake," he said.
He added that it would have taken months to do that kind of damage.
"It was as if part of the tyre had been shaved off. There were two such marks on one tyre and two to three on the other.
" The combination of speed and these tyres was disastrous. It was inevitable this was going to happen unless the tyres were changed," he said.
Witness, Cormac McDevitt who had been walking towards the oncoming jeep, described hearing a noise behind him "like a flopping sound like you would hear from a flat tyre".
He said the Toyota was travelling at "maybe 90 miles an hour" before colliding with the oncoming jeep.
The jury returned a verdict, consistent with medical evidence, that Kerry Anne had died of multiple injuries to head with lacerations to spleen and liver and Neisha had died as a result of a fractured skull.
Last November, a Circuit Court judge sentenced Christopher Hanlon, now aged 21, to 240 hours community service and disqualified him from driving for eight years after he pleaded guilty to dangerous driving causing the deaths of his partner and child.
Ends