A RAPHOE singer is pleading with the people of Donegal to get behind his song begging Jedward NOT to represent Ireland at the Eurovision Song Contest.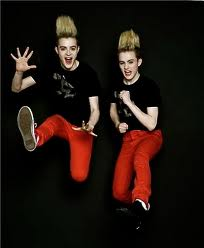 Furious Fin Drumm wrote the song just hours after the infamous twins won the National Song Contest on RTE and uploaded it onto You Tube.
The song, which begs the pair to pull out of the competition with their song 'Lipstick', has already had 1,500 hits and counting.
Finn, 36, a former member of Eurovision entrant Mickey Joe Harte's band, says he is deadly seriously about the song which he has recorded and uploaded onto his 'hisirtunes' site.
The hilarious chorus goes ""Jedward, please don't do it, you're an embarrassment to the world/ Chosen by the telephone votes of brainwashed little girls/ Let someone with talent represent us we're begging you on our knees/ Jedward don't do it, please, please please."
Fin says some people might laugh at his song but it has a serious side too.
"When you think of what Ireland could send, with all the young talented people in the country, it's unfortunate this is what is going to represent us," he said.
Fin readily admits that with the changing nature of the Eurovision Song Contest in recent years, his song could backfire on him.
"It was written more as a reaction to the reaction I have seen to them being picked. I understand they have a good fan base among a certain percentage of the Irish population and Ireland winning will be more important than anything I have to say.
 "They are probably perfect for the way the competition is now. It's more of a novelty competition but at the same time, I believe we could have a better representation of Irish talent than these two lads," he said.
 The out-of-work musician, who was in Latvia when Mickey Joe Harte represented Ireland in 2003, admitted his song harkened back to a time when the competition was more about the song.
And it isn't the only song he has penned. "The Facebook Song' has had an impressive 83,724 hits on Youtube  and 'The Bailout Song 'has had over 100,000 hits, while others such as 'The Pothole Song', 'The Bailout Song' and 'Session thru the Recession' are gaining fans daily.
"What I write is light-heated social commentary but it is also saying what a lot of people are thinking," he added.
But with over 200,000 YouTube hits of their own for their Eurovision entry, 'Lipstick', the Dublin twins have little to fear from Fin's protest.
RTE is backing Jedward's shot at success in Dusseldorf next month and has high hopes that they will bring back Eurovision glory to Ireland after 15 years in the wilderness.
With the catchy Irish entry a 10/1 favourite to win the competition, the brothers, who are taking the event seriously, also have the backing of Louis Walsh, their former X Factor mentor.
-end-