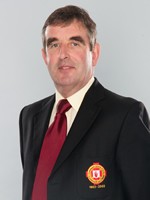 ALL-IRELAND winning manager Joe Kernan has backed Ballyshannon's Tom Daly in his decision not to seek the Presidency of the GAA.
Within the past three weeks three candidates — Con Hogan, Seamus Howlin and Tom Daly — have all withdrawn from the race.
This means that well-known Leinster Council administrator Liam O'Neill will automatically become the next president given that the pathway has now been cleared for him to succeed Cooney.
Former Armagh and Galway manager Joe Kernan said: "While I for one am disappointed that former Ulster Council president Daly has decided to opt out of the presidential race, I totally understand his reasons for doing so.
"During his three years as Ulster president, he gave unsparingly of himself and was at the very core of numerous initiatives launched by the Council.
"As a family man who holds an important job in the Republic's Health Service, Ballyshannon man Tom has important commitments outside the GAA.
"Yet Ulster has reason to be very grateful to him for what he achieved while at the helm of operations — greater emphasis on coaching, an increase in the number of floodlit county grounds, an enhanced relationship with the media, a much stronger integration policy and greater liaison with government departments."
Kernan added: "If his beloved Donegal did not set the world alight on the playing field during his reign, then Ulster's capture of the inter-provincial football championship in 2009, when Tyrone's Stephen O'Neill was captain, and the numerous All Ireland successes at different levels and in various codes that came to the province during his tenure in office delighted him.
"Tom has now obviously weighed up the demands of the role of GAA President against his current ongoing domestic and work commitments and decided that a 24/7 job for 365 days over a three-year period might be a bridge too far.
"Obviously it remains to be seen how Liam O'Neill will adapt to the demanding role of President. He has held a similar office in Leinster and is well versed in all aspects of the GAA."