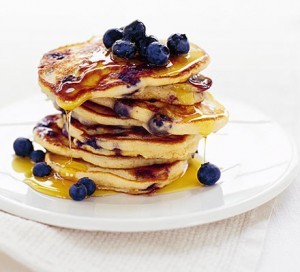 IT NEVER ceases to amaze us how much it can cost for a packet of pancakes in the shops.
One recent shopping experience included a dozen hard pancakes which cost almost FOUR EURO!
Don't do it folks – make your own with this great donegaldaily.com recipe!
With Pancake Tuesday this week, we've come up with a brilliant basic pancake recipe that will taste a million times better than anything you buy in the shops.
DONEGALDAILY.COM BASIC PANCAKE RECIPE
Makes 8-10 pancakes
250ml milk
120g plain flour
1 large egg
1tsp caster sugar
Pinch of salt
20g of Butter
Sieve the flour. Whisk the flour, salt, sugar, egg and one third of the milk together. This shoudn't take more than a minute or two. Once it's smooth, add the rest of the milk slowly, whisking all the time.
Melt the butter separately. (A few seconds in the microwave will do). And then add to your batter mix.
Heat a good non-stick frying pan, rub with a little butter (or vegetable oil), then pour in a little pancake mix, and immediately tilt the pan so that the mixture spreads evenly. Turn after one minute with a spatula – or flip it if you're showing off in front of the children!
If you're planning a pancake party, you can store your pancakes between sheets of greaseproof paper. They can then be re-heated in an oven for about two minutes if you need to.
If you have batter left over, it will keep in the fridge for up to two days; just re-whisk it before using.
Add your own imagination….with lemon, butter, Nutella or sugar (or all four). Or bllueberries and syrup!
For savoury pancakes, leave out the sugar at the start, and you can add cooked mushrooms or tomatoes at the end.
Like it? Facebook it!