THOUSANDS of pilgrims have turned up to a rare relic of beloved missionary Mother Theresa in Donegal today.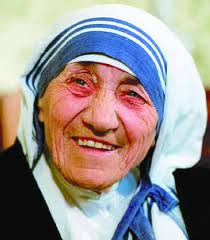 They are currently in the village of Leitirmacaward for the event.  
The relic, an actual clump of the beatified Missionary's hair, will be put on display in St.Bridget's Church.
It is extremely rare such a relic is allowed outside of the Vatican in Rome and organisers say they are extremely blessed to have been granted the relic.
Thousands of pilgrims will get a chance to be blessed by the sacred relic.
As well as the blessing, people will be able to speak with nuns from the Sisters of Charity from Sligo who worked with Mother Theresa.
Fr.Eamonn McLaughlin, who has organised the event, said he is speechless at the goodwill which has been shown by the people of the local community and beyond.  
"I was thinking of something we could do for the community and I knew the people of Ireland have as special place in their hearts for Mother Theresa.
"I got onto the website and I contacted Rome and asked them about the possibility of having a relic and they kind allowed us. It is extremely rare for this to happen and we are very blessed.
"Everyone is asking why Leitir but I am saying why not," he said.
Organisers have invited everyone along for the occasion with a special invitation being extended to the sick.
Although Mother Theresa, who passed away in 1997, has not yet been Canonised, she has been Beatified.
Fr McLaughlin explained: "In order for Mother Theresa to be Canonised, there must be proof of an event that defies all scientific investigation."
Many are speculating about the possibility of a miraculous event taking place at the event.
Fr McLaughlin said he was not looking for a miracle to happen today but admitted that it would be an unbelievable experience if it did.
"Is it beyond possibility that a miracle could happen? There will be many miracles will happen. People with alcohol problems or people with depression will undoubtedly find their own miracles through the relic.
"But physical ones? – I don't know. There is no reason why not, but there is no reason why either. It is not a magic wand.
"Anybody present who listens to whatever the sisters have to say, who quietly slow down for the day, will come away the better for it.
"Miracles do happen, the miracle that a whole community come together, what has come out has been amazing with young people, so excited and enthusiastic want to help," he said.
Fr.McLaughlin said Mother Theresa, who came to Ireland when she was 18 and stayed for many years, is loved by people across the country.
"People just are extremely touched by her life that such a small person had such a universal effect for good, she was just such a good person who unconditionally loved everyone," he said.
As well as a talk by the Sisters of Charity and mass, a rare film of Mother Theresa performing two miracles will also be shown while 40 to 50 'panels' about the life of the missionary will also be on display at the event which starts at 1pm today (Saturday).
"We are also extremely lucky to have this.  One of the miracles shows Mother Theresa taking orphans out of Beirut during a one-day ceasefire.
"It has rarely been seen and I doubt if anyone in Ireland has ever seen it before," said Fr.McLaughlin.
Fr.McLaughlin added that nobody will be turned away from the visit of the relic which will be held in St.Bridget's Church and the adjoining parish hall.
"It is starting to get very big. People are already coming from different counties including Roscommon and Leitrim. The word is spreading.
"I am just hoping it doesn't get too big but nobody will be turned away," he said.
 Ends