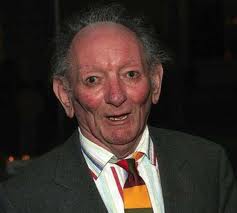 Playwright Brian Friel – was named Donegal Person of the Year 2010 at a ceremony in Dublin at the weekend – told 700 guests he had a "flush of pride" that lasted for three days when he was told he would be honoured.
"Eventually I had to pull myself in hand," he joked, before describing how previous winners Joe Mulholland (2008) and Mairead Ni Mhaonaigh (2009) were full of "vigour and vitality".
"Don't they know that you're 82 years of age, that you've had two strokes, that you're as deaf as a post and need a walking stick?
"How could I be considered Donegal Person of the Year?
"I was so humbled to get the award that I'd settle for Donegal Person of the Night," he joked at the event in the Burlington Hotel, which included two Nobel prize winners, Seamus Heaney and John Hume.
"The responsibility that they were laying on me to keep going for another 12 months might well be enough to finish me off," Friel said to much laughter.
Friel, who has lived in Donegal for 44 years thanked the Donegal Association for the honour, stating it was a "very big event" for him.
President Mary McAleese sent a message on the night, which was read out, stating that Friel's love of Donegal "shines through his work".
Professor Tom Kilroy said Friel had taken possession of a beloved place and reinvented it.
"He did so by renaming it (to Ballybeg). A necessary step to achieve freedom. . . freedom to release imagination," he added.
He described Friel's writing as a "joyous, comic celebration of life". He added: "His writing is never sentimental."
He said the writer had used "the local and the parish to deal with the universal and to express the human condition in all its complexities".
Phil Coulter got on stage to join John Hume in a rendition of 'The Town I Loved So Well'.
Gay Byrne, who went along with his wife, Kathleen, said he was "overwhelmed" the first time he saw 'Philadelphia Here I Come'. He went along to see in the play in the Gaiety in 1963 because he was interested in theatre.
Kathleen is a close friend of Friel's wife, Anne, and the couples have spent time together in Donegal.
Other guests included: singer Paul Brady; Gate chief Michael Colgan; Abbey director Fiach Mac Conghail; musician Paddy Cole; and football hero Packie Bonner.