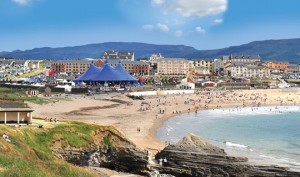 Surf history will be made when award winning Co. Donegal festival Sea Sessions, hosts the UK and Ireland's first ever Association of Surfing Professionals (ASP) speciality event on 24th, 25th and 26th June 2011.
In just its fourth year, Sea Sessions 2011 has announced that their annual Surf Expression Session has been recognised by the ASP and in association with Quiksilver will be the first-of-its-kind event to be displayed in Ireland and the UK.
Crowning surfing's undisputed world champions since 1976, the ASP is the governing body of professional surfing and runs the World Tour of Surfing that has sanctioned only a few speciality events in Europe.
"The Sea Sessions  Expression Session has been a popular event with surfers and non-surfers. However, the sanctioning of the event by the ASP and its sponsorship by Quiksilver, one of the biggest surf brands in the world, is a huge vote of confidence in an event which has grown to not only be the biggest surf event in Ireland, but the second largest in the whole of Ireland and the UK" explains festival organiser Peter Craig.
"The Speciality Event places emphasis on allowing surfers the freedom to free-surf and go for bigger moves, making it a thrilling spectacle for surfers and non-surfers alike".
While Irish surfing has gained recognition in recent years, Irelands distance from the more traditional surf centres around Europe has meant the publicity has surrounded our waves more than our surfers. Ten times surfing world champion Kelly Slater on a surf trip to Ireland described it as "a cold paradise."
Head of ASP Europe Gregorie Puget said: "It is great to see Irish surfers enter as it will be a great opportunity for ASP Europe to highlight these kids' performance, far from the usual South West Coast of France and Basque Country."
The Sea Sessions Expression Session will further cement Ireland's place as one of the world's best surfing destinations whilst giving exposure to the some of the best surfers that ride its waves. Recognised surfers already confirmed to attend the event are former World #3, Australian charger Mick Campbell, Welsh legend Carwyn Williams, English ripper Oli Adams, and Ireland's top free surfer Cain Killcullen.
The Expression Session will also give Irish surfers the chance to compete against some of the world's top surfers. They will compete not only for worldwide exposure but also for €5000 in cash, festival hospitality and bragging rights among many other prizes. The number of contestants is limited to 20 and the entry fee is €20. Entries should be sent to seasessionssurf@gmail.com
The Expression Session is only one of a number of events happening this year at Sea Sessions along with The Quiksilver King of the Groms surf competition, the Surfers Village, an online surf clip competition and a short film festival open for all to partake in. Visit seasessions.com for further information on how to get involved!
Weekend tickets for Sea Sessions 2011 are just €79.95. Camping available from €20 for a four night weekend pass. Tickets can be bought directly from seasessions.com or from HMV outlets nationwide. Camping, self-catering accommodation, bed & breakfasts and hotels are readily available in the surrounding area of Bundoran and along the west coast of Co. Donegal.