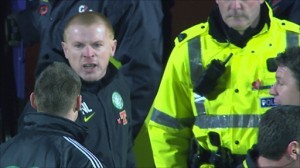 NEIL LENNON will stay at Celtic and won't be forced to quit by bigots, defender Daniel Majstorovic has insisted.
Lennon (right), who has been repeatedly targeted by bigoted thugs and was sent bullets in the post earlier this year, did not travel to the club's 4-1 friendly win over Finn Harps in Ballybofey yesterday on the advice of security personnel.
This development followed the latest threat last Friday when a suspicious package, later identified as a hoax nail bomb, was intercepted at a sorting office in Ayrshire.
Coach Alan Thompson has already expressed fears that Lennon could quit for the sake of his family at the end of the season, but Majstorovic praised the 39-year-old for remaining composed in his dealings with the players during such a stressful period.
'The gaffer is an unbelievable coach and what he has done for the club so far is really amazing,' insisted Majstorovic after Saturday's 2-0 win over Hamilton, during which Lennon's name was regularly chanted by the home support.
'I haven't noticed any difference in him recently and he still seems exactly the same. He is such a strong person with an unbelievable character.
'I think he has a great future because he knows what this club needs. He is the right man for Celtic.
'He is a winner and someone who demands the maximum in every session. I'm delighted to be working with him.
'He is learning every day but, so far, the results and the spirit in the group have been great. He is the key to all that."
Meanwhile reports last night claimed Rangers striker Diouf has revealed he wasn't racially abused – as has been claimed by sick Rangers fans on the internet.
Diouf is attempting to defuse the growing row by speaking of his respect for Lennon and declaring: 'He is not a racist.'
The on-loan Rangers star reportedly claimed: "Neil Lennon is a nice guy and I do not believe he racially abused me. Neil Lennon is not a racist and I have every respect for him as a manager."
Stathclyde Police today begin an investigation into last Wednesday's Old Firm game. Lennon, Diouf and Ally McCoist will all be asked to explain the events surrounding Celtic's cup win over Rangers when three players were sent off.