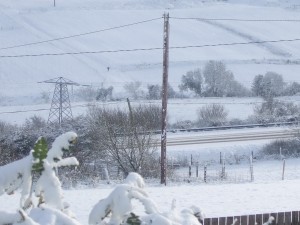 DONEGAL is going to be lashed with a snow storm this Wednesday, BBC forecasters predicted today.
After what has been one of the mildest starts to March in years, it appears our early brush with spring was just that.
BBC forecaster Angie Philips said: "There will be much colder weather coming in from the north and this will bring wintry showers that will include sleet and snow. There will also be strong winds, making it feel even colder."
The good news is that the snow won't last, but will be replaced by very stormy and wet weather into the weekend.
See a weather update for St Patrick's Day here:
https://www.donegaldaily.com/2011/03/07/snow-joke-our-shamrocks-could-be-white-as-freezing-temperatures-return/