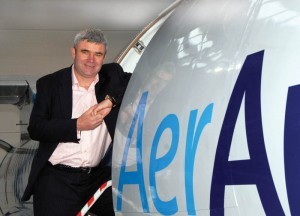 Aer Arann Executive Chairman Padraig O Ceidigh, Dragon's Den star Bobby Kerr and Jim Power, Chief Economist and Economic Advisor to the Friends First Group are just some of the high-profile speakers at this week's Enterprising Donegal Business Week.
Organised by Donegal County Enterprise Board, the aim of the week-long programme of events is to inspire and motivate people to consider the idea of starting a business and to provide a learning and networking forum for those already in business. Running from today, Monday 7th March through to this Friday March 11th in venues across the county; the theme for the week is "Back to Basics – key building blocks for growing your business".
"We have secured some really excellent events and speakers this year", said Michael Tunney, Chief Executive of Donegal County Enterprise Board.
"There are seminars and workshops covering everything from how to drive up sales to developing new products and managing cashflow."
The week kicks off in Letterkenny at lunchtime today with Bobby Kerr, star of RTE Dragons' Den and Chairman of Insomnia Coffee, who will be guest of honour at the official launch of Enterprising Donegal Business Week.
Later today Jim Power, the high profile Chief Economist at Friends First, will host an evening seminar. 
Events continue tomorrow morning (Tuesday) with a Marketing workshop hosted by Suzanne Hill of Handel Export Consulting with contributions from Michael Faulkner of EuroXchanger and Seed-Ups, Seamus McAdams of i2 Total Marketing and Niall McKeown of Ion Technologies Ltd.
On Wednesday Padraig O Ceidigh of Aer Arann will be guest of honour at a business lunch in Lettekenny.  Earlier that day there will be a morning workshop on Branding hosted by Carton Le Vert including a case study by Lynn Temple of Magee Clothing.
There will also be a seminar on Lean business processes hosted by Enterprise Ireland with a case study on Inishowen Engineering. 
Wednesday evening will see some of the top names in the Irish Food sector coming to Letterkenny to attend a major seminar "Food – finding your way to the customer."
Guest speakers include Mary Ann O'Brien of Lily O'Brien's chocolates, Alan Kingston of speciality food producer Glenilen Farm and food industry consultant James Burke, former board member and Trading Manager at Superquinn.
On Thursday morning there will be a special workshop on effective sales techniques hosted by Stephen Friel of Friel Consulting and a workshop on Social Intelligence by Mark Keightley, MD of the UK consultancy Mind Associates.
The Enterprise Board is also hosting a lunch on Thursday in association with the Donegal Women in Business Network, with guest speaker Nicola Byrne, the award-winning founder of directory enquiry service Call 11890 Limited.
The week wraps up on Friday 11th with a workshop on starting your own business hosted by Padraic O Maille with contributions from Malachi Eastwood, MD of Gartan Technologies, and Brian Sweeney, MD of the Swilly Group. 
For further information about Enterprising Donegal Business Week 2011 contact Celine Carroll, Donegal County Enterprise Board on 074 9160735 or email ccarroll@donegalenterprise.ie  Alternatively, you can visit the Donegal County Enterprise Board's website at www.donegalenterprise.ie.